Gyan Ganga ends in Doaba College
The theme of the event was 'Innovating Science for Self ReliantIndia'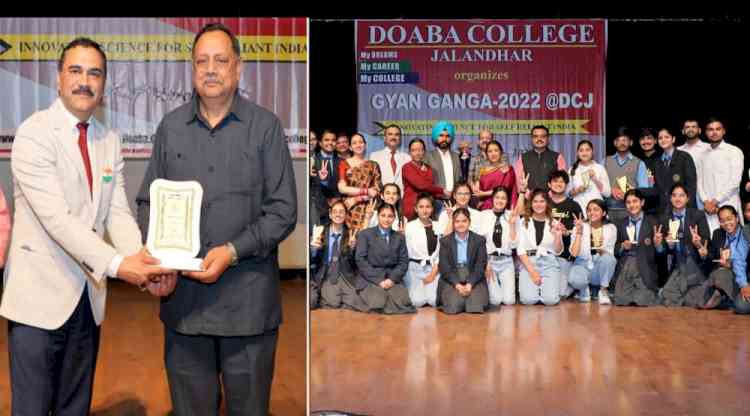 Jalandhar, March 9, 2022: Faculty of Sciences of Doaba College Jalandhar organized Valedictory Function of Gyan Ganga - 2022Redefining Curiosity, sponsored by Department of Biotechnology, Ministry of Science and Technology, Govt. of India was attended by more than 900 participants from 24 Schools. The theme of the event was 'Innovating Science for Self ReliantIndia'. 
The Inaugural Session began with the lighting of Knowledge lamp by  Chief Guest Dhruv Mittal, Treasurer, Doaba College Managing Committee, Dr. Pardeep Bhandari, Principal, Doaba College, Prof. KK Yadav, Coordinator, Dr. Rajiv Khosla, HoD, Biotechnology and Organizing Secretary, and Faculty members. It was followed by a plant sapling  welcome of the Chief Guest and Pawan Rai, Principal representative, Labhu Ram Doaba School. 
In his address Dr. Pardeep Bhandari formally welcomed all and stressed on Doaba College's message of combining learning and enjoyment to get new experience in life. He explained the importance of Informed Decisions  for planning of Career Formation and inspired the students to follow four words- Learn, Create, Grow and Enjoy to succeed in life. After Doaba Jai Gaan and Dance performances by students of various classes of College, Token of Honour was given to the dignitary. 
Dhruv Mittal shed light on the significance of Hands-on experience provided by Doaba College through the educational stalls exhibition during this event. He motivated the students to achieve excellence by choosing right direction in life in their formative years. Several events from the four streams such as Crack the Code, Vigyan Meme, Tech Games : Online Chess, Temple Run, Raabta-e-Science, Vigyan Patarkar, Vigyan TV news,  VigyanVigyapan : Ad - Mad Show, Vigyan Documentary, Masala Lab and Science on Stage : Skit and Dance were held. 
The Valedictory comprised the floral welcome of Chief Guest Harpreet Singh Atwal, PCS, SDM - 1 Jalandhar, Guests of Honour Sarabjeet Singh,  Principal Director, Central Institute of Hand Tools, Jalandhar, and Sanjay Sabharwal, Member, Doaba College Managing Committee and Principals of various Schools by College Principal and faculty members. 
The Chief Guest appreciated the efforts of Doaba College for organizing this event. Tokens of Honour to Guests of Honour were given by the Chief Guest and he was honoured by Doaba College team members. It led to announcement of Results and Prize distribution for all events. The Valedictory session concluded with the Vote of Thanks by Dr. Rajiv Khosla.