Guv releases Kisan handbook and calendar of Nauni varsity
This publication contains an overview of the university, contact numbers of the various university departments and line departments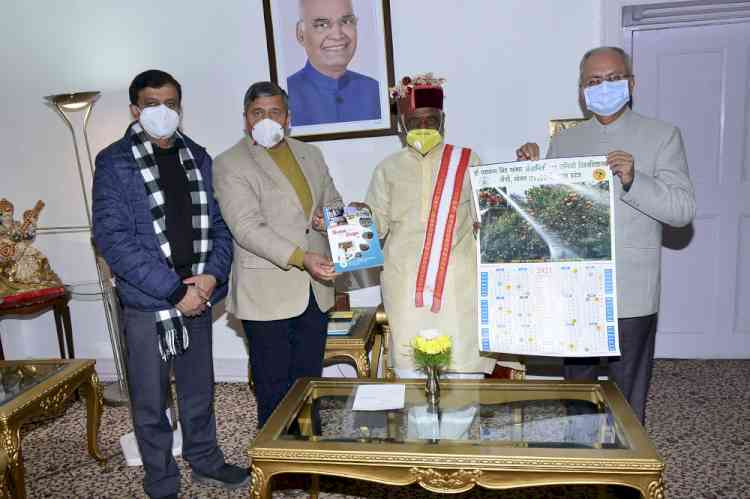 HP Governor Shri Bandaru Dattareya releasing the Kisan Handbook and University calendar.
The Governor of Himachal Pradesh Shri Bandaru Dattatreya today released the second edition of Kisan Handbook and calendar of Dr YS Parmar University of Horticulture and Forestry (UHF), Nauni. Himachal Pradesh Chief Secretary Shri Anil Kumar Khachi, Secretary to Governor Shri Rakesh Kanwar and UHF Vice-Chancellor Dr Parvinder Kaushal were also present on the occasion. Dr Kaushal also presented these publications to Chief Minister Shri Jai Ram Thakur.
 
The Kisan handbook carries information about the Package of Practices (POP) for various horticultural and agroforestry crops, which will be beneficial for the social-economic upliftment of the farmers of the state. The POP is the recommended production technology of various crops right from sowing to harvest that will help farmers in enhancing production and productivity.
 
The horticulture crops include fruits, vegetables, flowers, medicinal and aromatic plants, mushroom, and their seed production and post-harvest management. Among the technology pertaining to forest crops, the main emphasis is on agroforestry crops, tree improvement and forest product utilization. Apart from the above, the publication also contains information about soil science and water management, beekeeping, environment science and other allied areas. Moreover, this publication contains an overview of the university, contact numbers of the various university departments and line departments.