Gurmat Kirtan Darbaar organised at Ramgarhia Girls College
The audience was mesmerised by the devotional Gurbani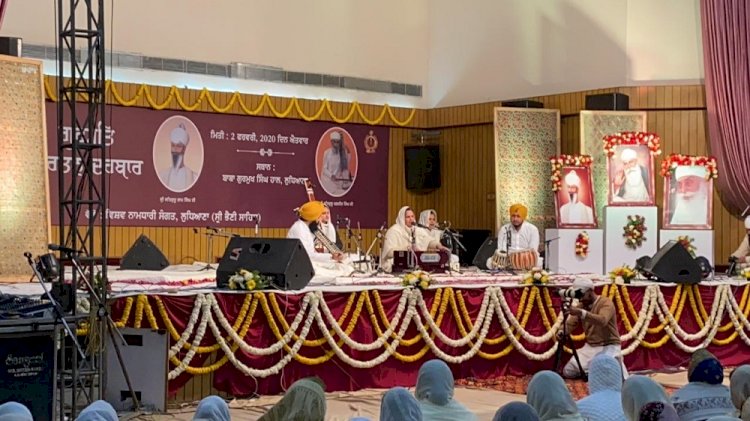 Ludhiana: Gurmat Kirtan Darbaar organised at Ramgarhia Girls College On 2nd Feb, 2020, to celebrate the 550th  Birth Anniversary of Shri Guru Nanak Dev ji, Satguru Ram Singh Ji ( Basant Panchmi) and 100th  Birth Anniversary of Satguru Jagjeet Singh Ji, a great Gurmat Kirtan Darbaar was organised in the presence of Satguru Uday Singh Ji at Baba Gurmukh Singh Hall, Ramgarhia Girls College in the presence of Satguru Uday Singh Ji. 
Ragi Balwant Singh Namdhari , Dr. Nivedita Singh, S. Harpreet Singh Namdhari and Bibi  Avtaar Kaur were among the main performers who recited the pious Gurbani of Sri Guru Nanak Dev Ji. The audience was mesmerised by the devotional Gurbani performed by such prominent Kirtanies. Inspiring all present to attach themselves with the teachings and bani of Guru Nanak, Satguru Uday Singh Ji asserted that Guru Nanak has spread the greatest messages meant for the mankind in the best way. By leading a simple life and doing the hard work along with devoting himself entirely to the Almighty has really been motivating the entire humanity. In the modern time his teachings have become all the more important because the modern man must seek the blessings of Waheguru. 
S. Ranjodh Singh shared his ideas by saying that today is a great day for everyone present here because it is the day when in the College Campus we all have got the chance to sit among the Namdhari Sangat and recite the teachings and Gurbani by the First Guru of Sikhs. The serene performance has certainly touched our hearts. 
Principal Dr. Inderjit Kaur in her address stated that it is indeed a great opportunity for all of us to revise and listen to such melodious Shabad Kirtan because it has such strong power to change the course of our lives towards the right direction. She also thanked the Namdhari Sangat for their efforts to organise such great events successfully