Guest lecture on entrepreneurship as career
Resourceperson narrates his own life journey and experiences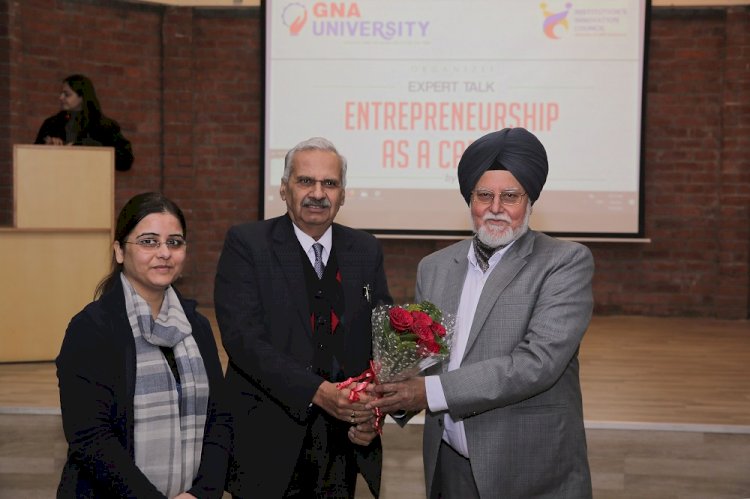 Jalandhar: GNA University's Institution Innovation Council established under the aegis of Ministry of Human Resource and Development organized a Guest Lecture on "Enterpreneurship as a Career" Er. Harjinder Singh Cheema, the founder of Cheema Boilers Ltd. And the Resource Person for the day shared his own life story of becoming a victorious entrepreneur. He narrated his own life journey and experiences and motivated the students to become job providers rather than job seekers.
Er. Harjinder Singh Cheema emphasized the importance of 5 Cs namely, Confidence, Commintment, Communication, Courage and Consistency. He discussed his own growth of the career journey from humble beginning where he started as Navy officer enjoying a good salary. He even said that he encountered a turning point of owning a ship rather than being an employee on the ship. He expressed, "I made up my mind to start my own venture an so I joined Thermax, a boiler company to gain knowledge of boiler manufacturing and eventualy founded Cheema Boilers Ltd. of which I am really proud of."
The session was highly motivating and interactive followed by students thorough discussion and clarification of pursuing start up as a career and later becoming a successful entrepreneur.   
Er. Harjinder Singh Cheema expressed, "Being present in the University among the brimming youth, I am reminde of my college days. I must say this is the best time period when you all can become what you want to with dint of hard work and clearcut vision."
Dr. VK Rattan, the Vice-Chancellor said, "We are happy to be with us and share your real life story. I am sure the students are inspired by your talk and will pursue to take a carrer like yours." 
Dr. Monika Hanspal, the Dean Academics & Systems & Operations acknowledged saying, "It is the need of the hour to not only conceive the start up ideas, but also to implement the unique ideas into action for running up their own startups."