Governor V.P. Singh Badnore releases Dr Sapna Nanda's book on high risk pregnancies management
With the release of this book, Dr. Sapna Nanda will have three internationally published books to her credit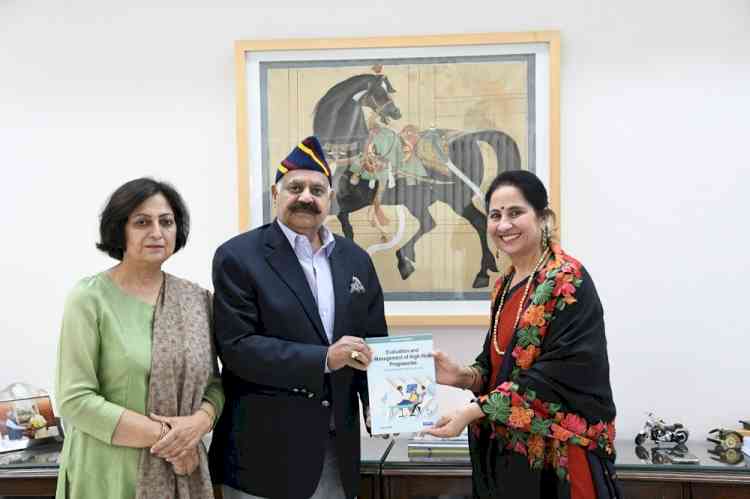 Chandigarh: On 27th January 2021, at Punjab Raj Bhawan, Sh. V.P. Singh Badnore, Governor of Punjab and Administrator of Chandigarh and the Lady Governor Mrs. Alka Singh released a book titled Evaluation and Management of High-Risk Pregnancies:   Emerging Research and Opportunities authored by Dr. Sapna Nanda, Principal, Government College of Yoga Education and Health under Chandigarh Administration. This book has been published by IGI Global Publishing House in Hershey PA, the United States of America. The forward of this book has been written by a renowned Gynaecologist Dr. Neelam Aggarwal, Head of the Gynaecology Department PGI, Chandigarh.
Complications during and after pregnancy and birth result in hundreds of thousands of deaths each year and can lead to lifelong health problems. Even with these complications, however, early detection and prenatal care can further reduce risk to the mother and baby. However, inadequate medical services, shortage of medical resources, and lack of or misinformation can hinder a woman's ability to successfully manage her pregnancy. This not only affects the health of the people immediately concerned and their families, but also has implications for global stability and the balance between population and resources.
Evaluation and Management of High-Risk Pregnancies: Emerging Research and Opportunities is a pivotal reference source that provides vital research on safeguarding mothers and babies through the availability of medical knowledge, cost-effective interventions and the availability of widespread obstetric services.
While highlighting topics such as labour complications, maternal mortality and reproductive health, this publication explores exposure to sexually transmitted diseases as well as the methods of physical and mental healthcare. This book is ideally designed for obstetricians, gynaecologists, world health organizations, policymakers, hospitals, health professionals, reproduction researchers, and physicians.
With the release of this book, Dr. Sapna Nanda will have three internationally published books to her credit, besides other books published by reputed Indian publishers. The other two internationally published books are Psycho- Socio-Physical Dimensions of Adolescent Health Management:Emerging Research and Opportunities published by IGI Global Publishing House in Hershey PA, the United States of Americaand Intervention Strategies for ADHD published by Lambert Academic Publishing, Germany.These books are available in GOBI and OASIS.