Government violating constitution by passing anti worker, anti farmer bills without debate 
Workers observe strike and protest dharna for their demands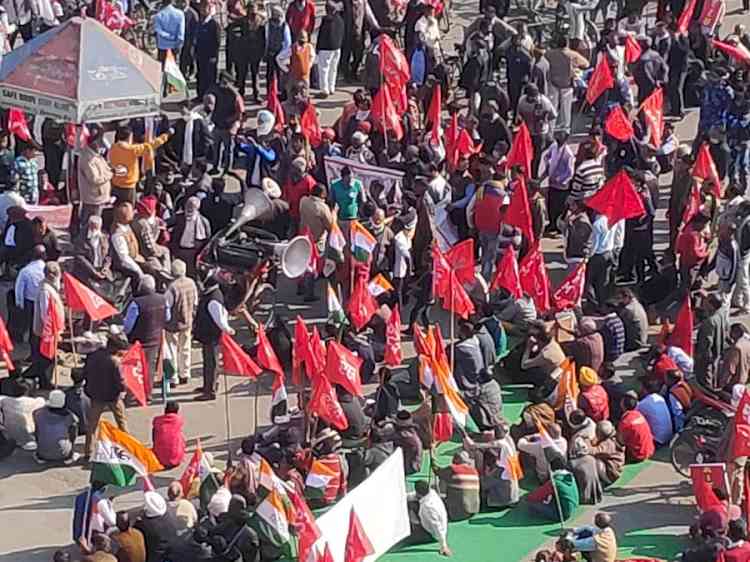 Ludhiana: At a call given by the Central Trade Unions viz INTUC, AITUC, CITU and CTU for a nationwide strike against the governments anti worker, anti farmer and anti people policies, workers in Ludhiana from various sectors after observing strike gathered and held protest at the Bharat Nagar Chowk on November 26.  

They demanded Cash transfer of Rs.7500/- for all non income tax paying families, 10 Kg free ration per person per month to all needy, Expansion of MGNREGA to provide 200 days work in a year in rural areas at enhanced wages; extension of employment guarantee to urban areas, withdraw all anti farmer laws and anti worker labour codes, stop privatisation of public sector including the financial sector and stop corporation of govt. run manufacturing and services entities like Railways, Ordinance Factories, Ports etc., Withdraw the draconian circular on forced premature retirement of government & PSU employees and Provide pension to all, scrap NPS and restore earlier pension, improve EPS-95. The government is blatantly violating the provisions of Indian constitution. Passage of anti workers bills in the Parliament without debate and anti farmer bills through ordinances is a clear pointer to this. The BJP ruled states UP, Karnataka and Gujarat have made draconian changes in the labour laws which will make the workers virtually as slaves/ bonded labourers. Codification of 44 laws into 4 codes will lead to snatching away of 80% rights of workers. Change of timings from 8 hours to 12 hours will put excess burden on workers. By freezing of DA of central government employees and DR of  68 lakh pensioners the government has taken away 70,000 Crore rupees from their pockets. Privatization of PSUs and 100 % FDI in railways, defence, insurance,  port and dock and banking sector is total sel lout of the nation's assets. Dangerous electricity bill 2020 will seriously affect the consumers.  Increase in Diesel and Petrol prices despite fall in crude oil price in international market is blatant highhandedness of the government. 
The rally was presided over by Swaran Singh INTUC, Ramesh Ratan – AITUC, Paramjeet Singh CTU, Sukhwinder Singh Lotey – CITU. Prominent speakers included Comrades Bant Singh Brar – President AITUC Punjab, Mangat Ram Pasla – General Secretary CTU, Gurjeet Singh Jagpal, Jatinder Pal, Prof. Jaipal, Jagdish Chand, D P Maur, Dr Arun Mitra, Vijay Kumar, M S Bhatia.