Government of India and LPU disseminated 'New-Era Education Course' to 27 Countries 
Indian Technical and Economic Cooperation (ITEC)-the Division of Ministry of External Affairs (Government of India) and LPU had collaborated for this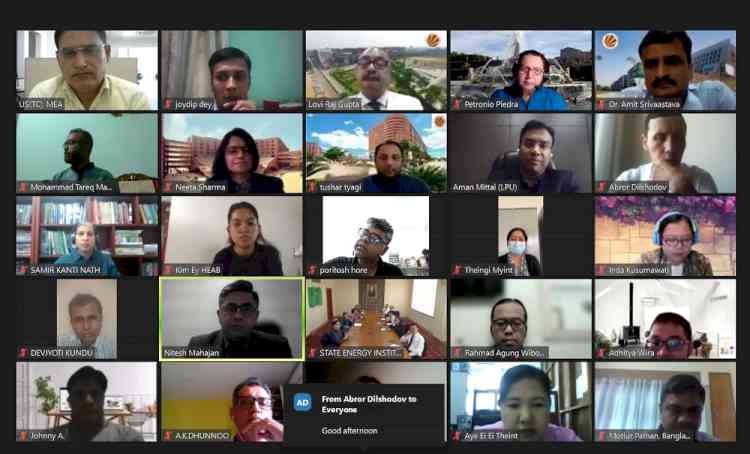 Director of ITEC Program & Additional Director at LPU, Mr Aman Mittal interacting with the students and delegates from Ministry of External Affairs during New-Era Education Course at LPU.
Jalandhar: In collaboration with Indian Technical and Economic Cooperation (ITEC)-the Division of Ministry of External Affairs (Government of India); Lovely Professional University (LPU) organized a five-day long 'New-Era Education' Course for 100+ participants from 27 countries.  These participants were education officers, senior administrators and teachers from Ministries of Education, universities, institutions and schools of SAARC, Latin- American, African and Central Asian countries including Turkmenistan, Kazakhstan. Relevant to existing times, the topic covered was for a certificate programme in "adapting to a new era of blended teaching and learning".
Educational sector faced a major challenge during the pandemic, when there was a sudden closure and lockdown, and offline teaching was shifted to online mode. This paradigm shift in a short span was only possible through adaptive ICT based tools and techniques. Developing simple and easy to use tools were the need of hour from both teachers and learners perspective.
Amid such chaos, LPU did not waste a single minute and emerged, perhaps, as the first university of the country to adopt effective educational methodology. It immediately incorporated smooth conversion of offline to online teaching, training the trainers, research and innovations to convert all challenges into opportunities. Presently, this course aimed to demonstrate effective methodology that was developed by LPU for the smooth conversion of offline teaching to online teaching.
After attending this program, participants learnt and understood a lot about psychological impact, stress management, training approach and assessment tools for effective online teaching-learning. This on-line certificate course was slated for all those who are to teach and learn online in altered circumstances. It was also emphasized that  write, speak and understand 'English', and have better internet connectivity.
Director of ITEC Program & Additional Director at LPU, Mr Aman Mittal expressed his pleasure on this unique endeavour and shared: "With such endeavours LPU is definitely proceeding towards making India 'Vishv Guru' once again. We are happy that the Ministry of External Affairs reposed immense faith in the versatile doings at LPU, and preferred it to deliver the government's prestigious programme to many countries at a time. This programme is certain to generate immense goodwill and cooperation among the developing countries."
ITEC Programme is a bilateral programme of assistance by the Government of India. Under ITEC and related programmes, 160+ countries in Asia, Africa, East Europe, Latin America, the Caribbean, Pacific and Small Island countries are invited to share in the Indian developmental experience acquired over seven decades as a free nation.
After successful completion of the first programme on information technology, this second consecutive programme of valuable instructions at LPU disseminated all-inclusive learning to the diverse group of participants. LPU's Executive Dean Dr Lovi Raj Gupta and ITEC Programme Co-Ordinator Nitesh Mahajan revealed their determination to fulfil such tasks and keep on helping out the global society. /(June 15, 2021)