Gopashtami festival held at Gauvan Panchkula
Lumpy victims and injured cows getting life at Gauvan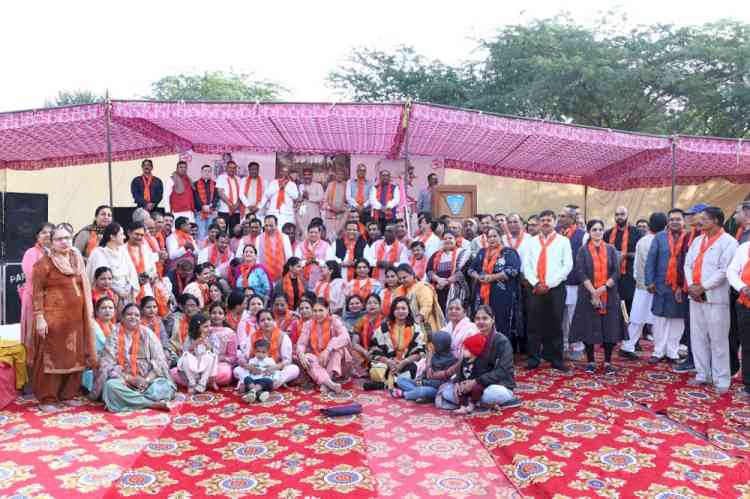 Panchkula, November 1, 2022: On the occasion of Gopashtami, a parikrama program was held under the aegis of 'Sab ki Seva, Rab ki Seva' organisation, which included hymns, discourses of saints, and distribution of prasad, at Gauvan in Sector 23 here today. The program lasted from 6 am to 8 am. After this, similar programs were held in all other Gaushalas of the region.
Surender Kumar, President, Sab Ki Sewa Rab Ki Sewa, said, "We are happy to inform  that the cows suffering from lumpy disease and injuries due to accidents were being treated at Gauvan for the last one and a half months. More than 1100 cows and Nandi are present in Gauvan. Of these, about 450 cows were suffering from lumpy disease, 300 were injured, and 350 cows were injured as well as suffering from lumpy disease. Some cows are still under treatment. Around 12 cows had died, and the rest were saved.
Amitabh Kumar Rungta, Vice President and Media In-charge of the organization said, "Service to Gaumata is equal to service to God. Destitute cows brought from Panchkula and nearby areas are kept in Gauvan. It is a pity that even revered cows like Nandi are left outside. We take care of such cows. People can inform us about any troubled cow. We are grateful to our volunteers and cow lovers who have contributed to providing medical aid to the cows present in Gauvan Panchkula."
The program was attended by the Vice Presidents of the organization, Subhash Chander Jagnani, Sandeep Mittal, Rakesh Bihari Gupta; General Secretary Sanjay Kumar Jain, Secretaries - Mukesh Bansal, Pankaj Gupta, Sanjay Kumar, Vineet Jain, and Treasurer Sunil Kumar Singla, besides a large number of cow lovers and Volunteers.