GNA University holds prize distribution of Prativaad
Cash awards as well as winning trophies were received by the respective winners of different competitions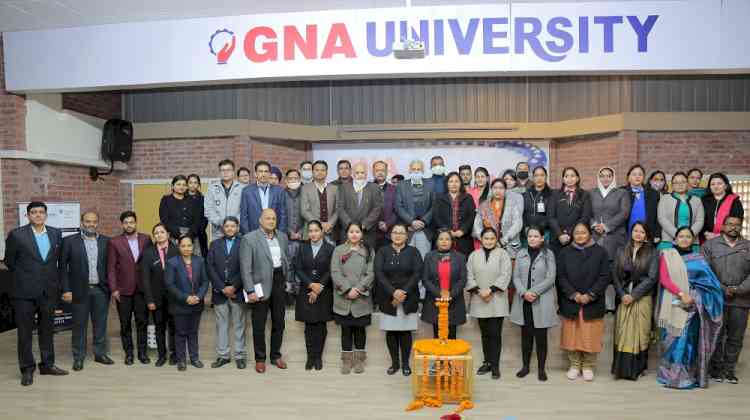 Jalandhar: Prativaad- an Inter School Contest, one of the greatest events was organized at GNA University for 2 days December 3 & 4, 2020 in the virtual mode. Keeping in view the active participation of the students in the virtual mode, the University held the prize distribution in person in the lush green campus of its own. Adhering to the safety and hygiene, the prize distribution ceremony was duly attended by the Principals and teachers of all the winning schools. 
The prize distribution ceremony was held in the benign presence of S. Gurdeep Singh, the Pro-Chancellor, GNA University. The occasion commenced with the Welcome Address of the Vice-Chancellor, Dr. VK Rattan. The ceremony was duly conducted by the MOC, Dr. Disha Khanna, Deputy Dean, Faculty of Liberal Arts. The overall event was duly acknowledged by the Vote of Thanks by the Registrar, Dr. RK Mahajhan.
Cash awards as well as winning trophies were received by the respective winners of different competitions like Blossom Buds, Character Design, Photography, Design 'O' Pedia, AD-Mad Show, Gam Jam, Codifica, Tech Jugaad, Voice of Doaba, Dance Star of Doaba, Blog Post, Develop Your Own Vehicle, Young Chef, Business Quiz and Play with Spreadsheet. Participation certificates were given to all the participants. 
S. Gurdeep Singh, the Pro-Chancellor, GNA University expressed, "I am really elated to witness the huge participation of the students even during the unprecedented times."
Dr. VK Rattan, the Vice-Chancellor remarked, "GNA University is always striving for excellence and will always offer his best in producing future leaders."
Dr. RK Mahajhan, the Registrar thanked and said, "The University is always on its toes to render the best to the community and unleash the hidden acumen of the deserving students."