GGN Khalsa College bhangra team to represent Punjab in national youth fest
This city college is known as nursery of bhangra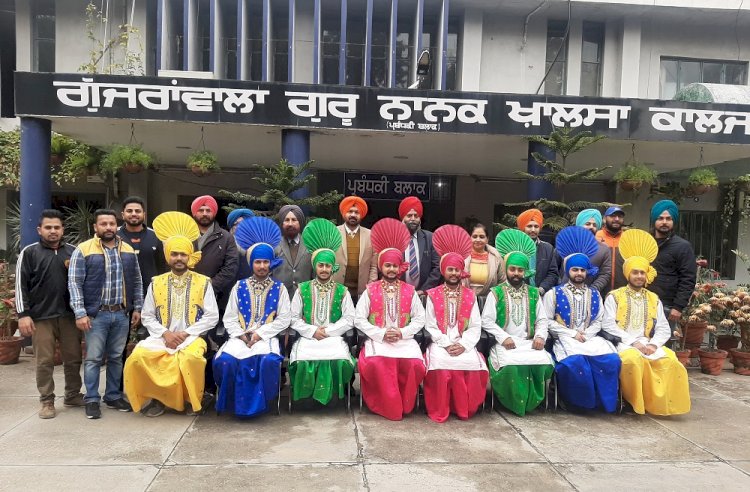 Ludhiana: Continuing the proud legacy of producing one of the finest Bhangra teams, the Bhangra team of Gujranwala Guru Nanak Khalsa College, Ludhiana is going to represent Punjab state in 23rd National Youth Festival, which is going to be organised in Lucknow from 12th  Jan to 16th Jan, 2020. 
Dr Arvinder Singh, college Principal, while throwing light on this told that Gujranwala Guru Nanak Khalsa College is known as Nursery of Bhangra and the flowers of this nursery have been selected to represent the state is a wonderful achievement. He further added that the team had bagged first position during the Zonal & Inter Zonal Youth and Cultural Heritage Festival, organised by Panjab University, Chandigarh, displaying their marvellous performance. He said, "It's a proud privilege for our institution that the Punjab government has selected our Bhangra team to represent the state during 23rd National Youth Festival." He said that the team is overwhelmed after hearing this news and an excellent performance is expected. He appreciated the relentless endeavours of Prof Jatinder Kapur, Prof Manjit Singh Batalvi, Dr Dalip Singh, Prof Harsimran Singh, the entire Bhangra team (Rajat Gill, Gurwinder Singh, Bhanu Pratap, Neeraj Joti, Captain Singh, Arshdeep Singh, Prashant Kumar, Shivam Kuamr, Varun Dogra, Coach- Gurmeet Singh and GurIqjot Singh, Dholi- Satnam Singh, Gurnam Singh Birdi, Prabhdeep Singh and Damanjit Singh) and told that it was because of their painstaking efforts which have brought laurels to the college in the form of a national level performance.
Shri Nirmal Jaura, Director, Youth Welfare, Panjab University, Chandigarh, especially came to the college to shower his invaluable and best wishes upon the bhangra team. He said that the entire university is proud of their achievement and it is an honour to perform at national level. Prof Manjit Singh Batalvi while congratulating the college Management Committee, Principal, Prof in charge associated with the Bhangra team and all the students of Bhangra team, said that the college has always been a supporting, encouraging and motivating element for the Bhangra team and the result of their support is in front of everyone in the form of national level performance of this team. 
Dr S.P. Singh, Honourary General Secretary (former Vice-Chancellor, Guru Nanak Dev University, Amritsar) expressed his heartfelt appreciation on the achievement of the entire Bhangra team and ensured every kind of help and support for the students to hone their talent and skills. On this occasion Prof. Paramjit Singh, Prof. Jatinder Kapur, Prof. Manjit Singh Batalvi, Dr. Dalip Singh & Prof. Harsimran Singh were also present.