Ganga Acrowool Limited organises two-day yarn collection Autumn Winter
Ganga Acrowool Limited, Ludhiana organised a two-day Yarn Collection Autumn Winter at Hotel Park Plaza, showcasing exclusive machine knitting yarns.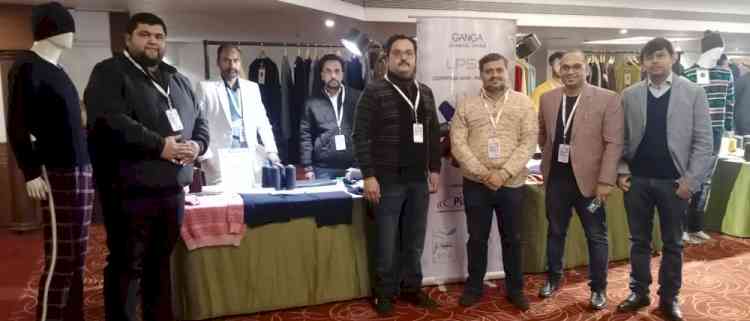 Ludhiana, January 5, 2022: Ganga Acrowool Limited, Ludhiana organised a two-day Yarn Collection Autumn Winter at Hotel Park Plaza, showcasing exclusive machine knitting yarns.
Today, on the first day of the exhibition, local hosiery manufacturers enthusiastically participated in the exhibition. On this occasion, Amit Thapar, President, Ganga Acrowool Limited said that they organise this exhibition every year in which they bring a new product range of knitting yarn for hosiery of Ludhiana. He added that leading brands are participating in this exhibition.
Thapar further added that their focus is to provide such value addition to the yarn that fashion can be created from simple knitting. He said that the threads displayed in the exhibition are of a completely new range.
A large number of people from Ludhiana, Delhi NCR and other places in the country where the winter season products are manufactured, visited the exhibition with great interest. More than 70 knitting yarns were displayed in this exhibition. Apart from this, wide range of multicolored shade ranges were also shown to the visitors and explained in detail. It is expected that more than 500 people will go to see this exhibition of two-days. There is every possibility of business queries in this exhibition.
It was said that nowadays there is a lot of demand for pre-winter products, in which light weight garments are in great demand. These products include hairy yarn, tube yarn and metallic yarn. Thapar told that this time his company has entered into an agreement with the Aditya Birla Group, under which those hosiery manufacturers who will buy yarn made from Aditya Birla Group's pilbloc fibre and make a sweater and sell it to the customers they will also be given tag of pilbloc which will ensure that the sweater gets the least burrs.
Thapar said that through the exhibition they not only get feedback but also get an opportunity to think about future plans.
Speaking on the occasion, Avik Mukherjee, Regional Sales Head – South Asia, Aditya Birla said that India has a lot of potential in the future due to innovation in the knitting yarn sector. People are now turning towards India instead of China. He said that due to the introduction of new products, the customers are getting an opportunity to feel a new feel. New products being innovative can be worn many times without getting damaged. He said that customers will get premium products due to the agreement signed by Aditya Birla with Ganga Acrowool Limited. This will not only benefit the customers but also the industry.
Chiranjeev Singh, General Secretary, Knitwear and Textile Club, Ludhiana termed the exhibition as a good step for the hosiery industry of Ludhiana.
Among others present on the occasion were Akash Bansal, Sudarshan Jain, Charanjit Singh, Vinod Thapar and Varun Narula and Mandeep Sharma (Manager) from Ganga Acrowool Limited.