Full dress rehearsal regarding District-Level Republic Day celebrations held 
DC appeals to all residents to attend function along with their families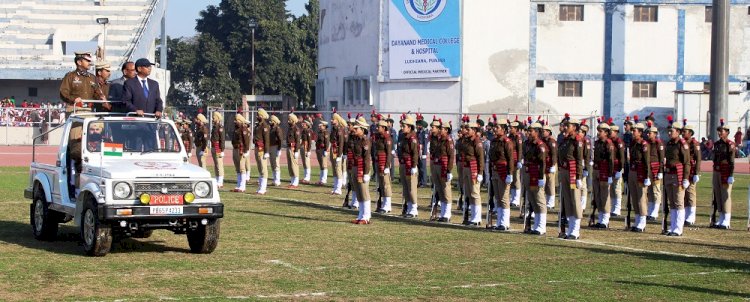 Ludhiana: The full dress rehearsal regarding the district-level Republic Day celebrations was held at the Guru Nanak Stadium, here today, in which the Deputy Commissioner Ludhiana reviewed the arrangements for this function. Punjab Social Security, Women & Child Development Minister Mrs Aruna Chaudhary would be the chief guest on January 26, 2020, and would unfurl the national flag.
Deputy Commissioner Mr Pradeep Kumar Agrawal unfurled the National Flag and took the salute from march past in the full dress rehearsal. Punjab Police and NCC teams from various schools participated in the march past. The march past was led by ACP (Headquarters) Mr Manoj Gorsi.
The Deputy Commissioner informed that a cultural programme showcasing the national integrity and the rich cultural heritage will be presented on the occasion. During these Republic Day celebrations, more than 2000 students from different schools, mainly government schools, would participate in the cultural items.
Deputy Commissioner urged all the government departments to celebrate this Republic Day with full enthusiasm and national integration. Families of freedom fighters would also be honoured on the occasion. The Deputy Commissioner informed that the function would start at 9:58 am with the unfurling of national flag by the Chief Guest.
While issuing necessary directions to the officials, the Deputy Commissioner said that both Republic Day and Independence Day are our national festivals and all residents should celebrate them with fervour, communal harmony and national integration. He directed the officials to perform their duties with utmost devotion. Municipal Corporation Ludhiana officials were directed to ensure cleanliness of the entire city. Mr Agrawal appealed to all residents of district Ludhiana to attend this function along with their families.
Prominent among those present on the occasion included Commissioner of Police Mr Rakesh Kumar Agrawal, ADC (Development) Mrs Amrit Singh, ADC (General) Mr Iqbal Singh Sandhu, ADC (Jagraon) Mrs Neeru Katyal Gupta, besides all senior officials of district administration.