Fuel conservation awareness program Saksham "Sanrakshan Kshamata Mahotsav" celebrated 
Fuel conservation awareness program Saksham "Sanrakshan Kshamata Mahotsav" was celebrated today at Jalandhar Cantt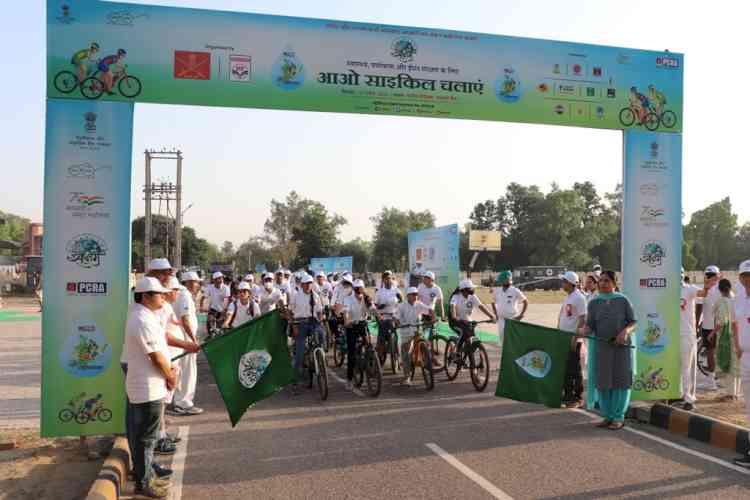 Jalandhar, April 17, 2022: Fuel conservation awareness program Saksham "Sanrakshan Kshamata Mahotsav" was celebrated today at Jalandhar Cantt by the Indian Army, Hindustan Petroleum Corporation Ltd and students of Army Public School, Jalandhar Cantt. Station Commander Jalandhar Cantt Brig Sanjog Negi flagged off the bicycle rally consisting of approx 150 children from Katoch Stadium, Jalandhar Cantt at 0700hrs. The children of Army Public School Jalandhar Cantt completed 5km bicycle rally to spread awareness among citizen about the fuel conservation in coordination with Hindustan Petroleum Corporation Ltd.
 
Speaking on the occasion, Chief Regional Manager, Hindustan Petroleum Corporation Ltd explained the theme of SAKSHAM (Azadi ka Amrit Mahotsav through clean & green energy) and importance of various events organised by oil companies under guidance of Petroleum conservation Research Association. A pledge on conservation of oil and gas was also administrated to all participants of the event.
 
Station Commander Jalandhar Cantt asserted that a small effort made by each one of us will lead to a significant contribution to the society. He congratulated all the children to become brand ambassadors to the society to spread the noble message. The cyclothon culminated successfully at Katoch Stadium with zeal and enthusiasm from participants. All the participants children were presented with medals and prizes by Brig Sanjog Negi, Station Commander Jalandhar Cantt.