From creating world record for World's largest jalebi to celebrating  Brij-style Phoolon Wali Holi, Zee TV's Mithai poised for buzzy launch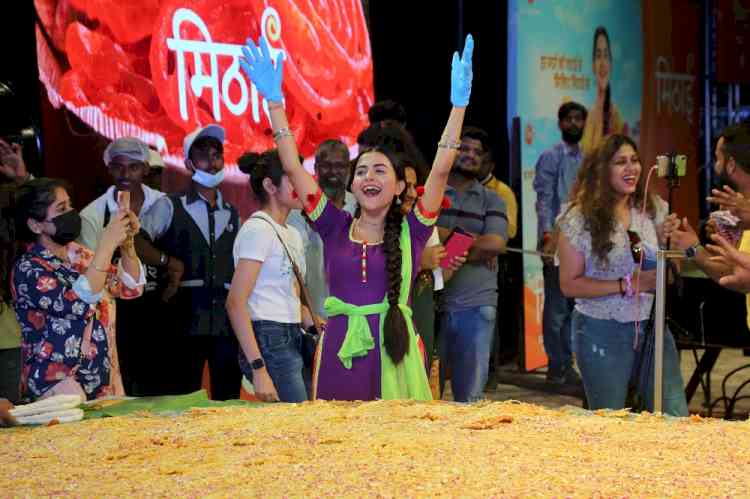 Mithai a.k.a Debattama Saha sis ecstatic as Zee TV breaks the World Record for the Largest Jalebi ever.


Mumbai, April 1, 2022: In India, almost every occasion that we celebrate is incomplete without the presence of 'Mithai'. With stories around their origin passed down generations, our traditional sweets hold a lot of cultural significance that runs much deeper than just the taste buds. There is an emotional connection that each of us has with our favourite sweets. The protagonist of Zee TV's upcoming fiction show 'Mithai' is no exception to the rule- She, in fact, is keen to preserve her late father's legacy of Aloo Jalebis and take them into every Indian home. With Mithai premiering on 4th April and airing every Monday to Saturday at 7 pm on Zee TV, the channel is going all out to ensure that a lot of anticipation and curiosity is built around the show's novel concept prior to its launch. 
 
The highlight initiative of the campaign was preparing the World's Largest Jalebi on the streets of Mumbai. With an aim of spreading sweetness and joy amongst everyone while celebrating the launch of Mithai, the whole-day activity commenced on 31st March at Bandra's Carter Road Promenade. Fried in a specially fabricated kadhai, this huge 12.8-feet jalebi weighing about 80 kgs was prepared with the help of 10 chefs from Rabdiwala and the lead actress of the show – Debattama Saha aka Mithai. After an arduous toil of nearly 24 hours, the channel made a victorious and spectacular entry into the International Book of Records for preparing the 'World's Largest Jalebi.' But, what's also remarkable is that the channel distributed this mouth-watering jalebi to underprivileged children from the NGO- Spark-A-Change. The Largest Jalebi became a source of happiness for the kids as they relished it along with their families while interacting and clicking selfies with Mithai. Zee TV also provided stationery supplies to these young students as a way of supporting them during the upcoming academic year!
 
By way of another marketing innovation aimed at boosting visibility, Zee TV also joined hands with Swiggy for an in-app integration that allowed users in select areas to place orders for their favourite sweets to be delivered to their doorstep. These special deliveries spread cheer, joy, and excitement amongst people across India as they received their orders in special Zee TV and Mithai-branded packages.
 
At the show's exciting media launch, the lead actress playing Mithai was introduced to the media in a unique way as she entered on her bicycle with garma-garam Aloo Jalebiyaan for all the journalists and brought alive the flavors of Mathura where the show is set by playing a Brij-style Phoolon Wali Holi, splashing flower petals in the air with her show family and the media. The vibrant visuals of this celebratory launch event were splashed extensively by the media. 
 
Zee TV also collaborated with popular social media influencer Kamiya Jani for her page Curly Tales, where she interacted with the leads of the show over brunch and brought alive show's unique concept in a light-hearted manner.
 
With excitement building for the show, it is all set to take you on the journey of a bubbly and chirpy sweet-maker, whose name is also incidentally Mithai. The show will take viewers into the by-lanes of Jatipura where barely four shops exist today that prepare a unique traditional sweet called Aloo Jalebi which is served as the mahaprasad at the Mukharvindh Temple. Not about to let her father's traditional recipe go extinct, the protagonist Mithai is all set to spread smiles by bringing her Aloo Jalebis into every Indian home.