Free Breast Cancer Check Up and Awareness Camp by Hampton Homes in association with Krishna Pran Charitable Trust and DMCH Cancer Care Centre
The camp was inaugurated by Managing Director of Hampton Homes Sanjeev Arora today as part of Breast Cancer Month awareness organized worldwide in October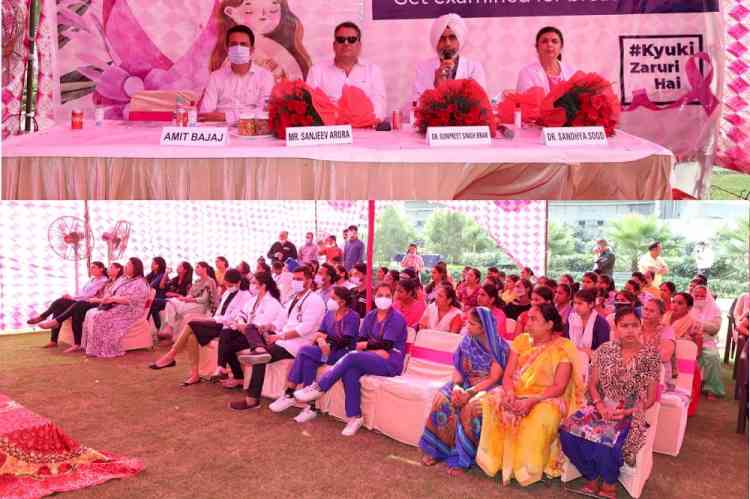 Ludhiana, October 8, 2021: Hampton Homes, Ludhiana has always been a front runner in providing a helping hand to any public initiative and community service. Continuing this tradition, it has organized a Free Breast Cancer Detection and Health Checkup Camp for women at its premises in associations with Krishna Pran Charitable Trust.
The camp was inaugurated by Managing Director of Hampton Homes Mr. Sanjeev Arora today as part of Breast Cancer Month awareness organized worldwide in October.  The camp included free medical consultation and awareness about Breast Cancer. The team of best oncologists from Dayanand Medical College & Hospital Dr. Gurpreet Singh Brar (MS MCH Professor Head, Surgical Oncology), Dr. Sandhya Sood (MBBS, MD) Senior Consultant Radiation Oncology), Dr. Rintu Sharma, Haemato Oncologist, Dr Ridhima Gupta, Gynecologist & Dr Rajnish Physician along with Volunteers were part of this camp.
Around 150 women were assessed, advised and counseled. Large number of women who were part of the camp including young/middle aged. Anyone who required Mammography was referred to DMCH Cancer Care Center & American Oncology Institute. In addition, a lecture was given by doctors for increasing knowledge on this disease among public in large.
According to Doctors common problems like Blood Pressure & Diabetes may need medicines for lifetime whereas Breast Cancer can be treated fully with in short time provided it is diagnosed on time. 
According to Mr Sanjeev Arora, Krishna Pran Charitable Trust being run by their family has already treated more than 150 patients free of cost and at any given time around 15-20 patients are under treatment. Once a patient is sponsored by the trust, she is taken care of Free medicines/treatment for life long. For people who cannot afford may contact DMCH staff for free treatment under the program run by trust. Mr Sanjeev Arora is also Member of Governing Board in DMCH society. Dr Gurpreet Brar also appreciated the way budget for treatment to poor is passed by management of trust without asking any questions.
According to Dr Sandhya & Dr Gurpreet Brar women should marry at right marriageable age and pregnancy ideally should be at around age of 25. Contraceptives should be used in consultation with doctors. Obesity should be avoided. Taking care of all this will not only help in avoiding Breast Cancer but also other women related problems. If there is history of Breast Cancer in family then you should be more vigilant against this disease.
According to Dr Sandhya Sood First Doctor of your body is yourself. Every month one day should be fixed for self-examination of breasts after the age of 25 and if any abnormal change in shape of Breasts or any knot which is not painful, on any of such abnormality Doctor should be consulted immediately. She also suggested that Mothers should get vaccination done for daughters between age of 9 to 18 years to prevent cervical cancer.