Four projects unveiled at Nauni Varsity
Soil & Leaf Analysis Lab, Plant Pathology lab, Nature camp and commercial plantation of Wild Pomegranate inaugurated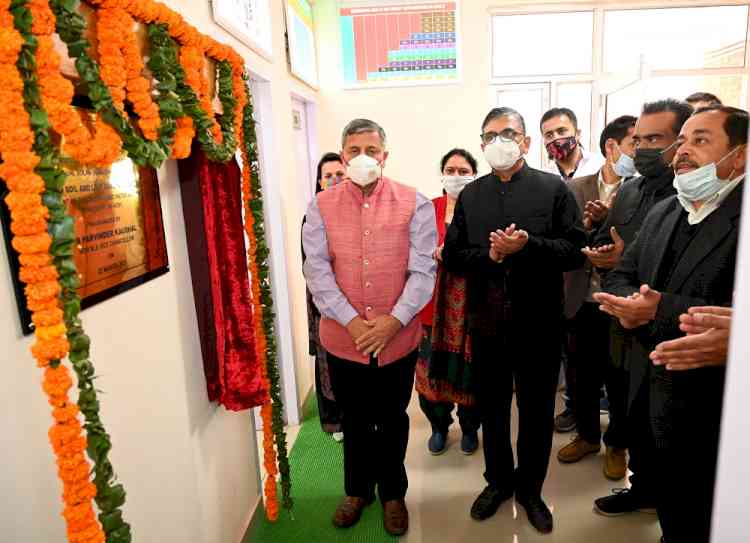 Dr Parvinder Kaushal Inaugurating Soil and Leaf Analysis Lab.
Nauni (Himachal Pradesh): Dr. Parvinder Kaushal, Vice-Chancellor of Dr. YS Parmar University of Horticulture and Forestry, Nauni today dedicated four projects to the students and farmers at the university campus. 
Among the project inaugurated was a state of the art Soil and Leaf Analysis laboratory established with the financial assistance of Rs 4.55 crore (over seven years) from the World Bank-funded HP-Horticulture Development Project. The laboratory is equipped with the latest equipment like Atomic Absorption Spectrophotometer, CHNS Analyzer, Microwave digestion system, UV-VIS Spectrophotometers. It is well equipped to analyze the different soil properties including different macro and micronutrients and as per the analysis values, the recommendations are also given to the farmers. The samples received from different HP-HDP clusters of the state are being analyzed in the laboratory and ad-hoc recommendations for High-Density Planting on clonal rootstocks are given. A field laboratory of the Department of Plant Pathology constructed at a cost of Rs 14.17 lakh met out of the pesticide testing scheme was also inaugurated today.
 
Two projects- Nature Park and a Commercial plantation model of wild pomegranate developed under the ICAR National Agricultural Higher Education Project were also unveiled today. The nature camp developed by the Department of Floriculture and Landscape Architecture has been developed as a recreation cum activity area for the students and showcases different landscaping methods. Under NAHEP, a commercial model of wild pomegranate developed by the Department of Silviculture and Agroforestry was also dedicated to the students and farmers. 
 
Speaking on the occasion, Dr. Parvinder Kaushal congratulated all the team members behind the completion of the projects. He said that both the laboratories will be immensely beneficial for conducting research. Speaking about the development of projects under the ICAR's NAHEP, Dr. Kaushal said that the university is proud to be able to develop facilities for research, teaching, and recreation activities for the students. He said that the university is in process of developing more such plantation models which will not only be beneficial to the students but also be helpful in popularizing new technologies among farmers. The statutory officers of the university, heads of all departments, coordinator and team members of NAHEP IDP, students and staff were present on the occasion.