Four more trains depart for Bihar and Uttar Pradesh today
These trains left carrying around 1200 migrants each from different states departed for Uttar Pradesh and Bihar states from Railway Station, Ludhiana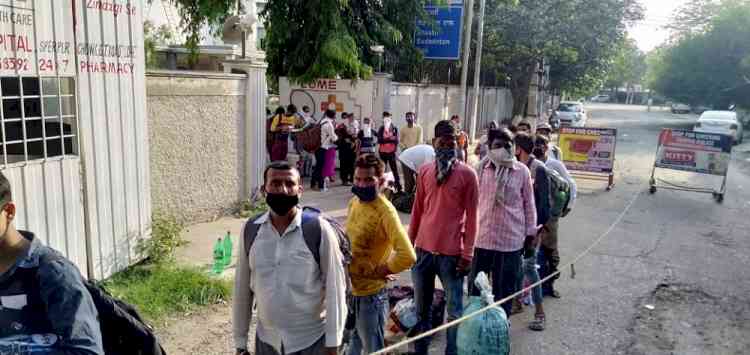 Ludhiana:    Four more trains carrying around 1200 migrants each from different states departed for Uttar Pradesh and Bihar states from Railway Station, Ludhiana today. These trains left for Muzaffarpur (Bihar), Kishanganj (Bihar), Azamgarh (Uttar Pradesh) and Gonda (Uttar Pradesh) today. 
    Deputy Commissioner Mr Pradeep Kumar Agrawal informed that the work of sending migrants to their home states is going on smoothly. He said that only those migrants are getting benefit of this facility, who have applied on web portal, www.covidhelp.punjab.gov.in. He informed that all states have appointed nodal officers for this purpose, who are in constant touch with each other. He informed that the persons who have applied on the government portal, the District Administration has sent them a message on their mobile numbers (mentioned at the time of registration). He stated that people who have not applied, would not be allowed to leave, and the registration is a must.
    Mr Agrawal informed that the District Administration sends SMSes to such persons, who have registered themselves at government portal www.covidhelp.punjab.gov.in, about the date and place where they have to reach for the start of their journey back home. He said that migrants are asked to gather at collection points, from where they are brought to Guru Nanak Stadium, here, by buses for proper medical screening. He said that on the completion of medical screening, tickets are handed over to the migrants and on way to the railway station (by foot), they are handed over food and a two litre bottle of mineral water. He said that people who are medically fit, only they are being allowed to travel. He said that during travel, the passengers are made to strictly follow social distancing strictly.
    Mohd Gulab, Vice Chairman, Punjab Backward Classes Land Development and Finance Corporation, also visited the Guru Nanak Stadium and Railway Station, where he interacted with the migrants leaving for their home states. He said that the Capt Amarinder Singh led Punjab government is providing all facilities to the people travelling to other states. He said that the Punjab government is paying for the train tickets of all persons travelling to their home states through trains from Punjab.
    He also urged the migrants to stay back in Ludhiana as thousands of industries have now started due to which several labourers have returned back to their jobs.