Four day MachAuto Expo 2020 concludes with more than 2000 crore queries to exhibitors
MLA Sanjay Talwar, KK Bawa, top industrial leaders visit Expo on Day 4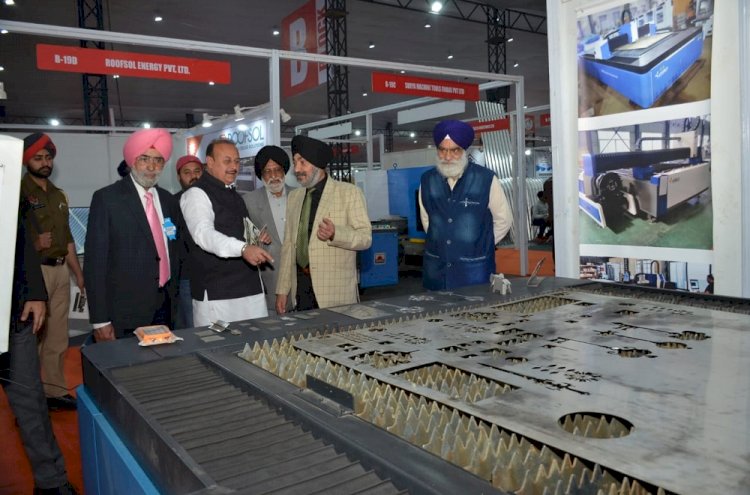 Ludhiana:  The Four day Exhibition on Machine Tools and Automation Technology, MachAuto Expo 2020 concluded on Monday. In four days Expo, the visitors in large number visited the expo to witness, learn and adopt the next Technology. In four days, Exhibitors get business queries more than 2000 crores from the industrialists. On last day of Expo, MLA Sanjay Talwar, Punjab State Industrial Development Corporation Chairman KK Bawa, top Industrial leaders attended the expo.
The exhibitors displaying CNC machines, laser cutting machines, Quality control accessories, Robotic Technology, Engineering tools, Machine Tools, welding machines and other machines and equipment's evoked huge response from the visitors.
During the Expo, many latest technology machines which was brought in Punjab for the first time was the attraction among the visitors.  Latest CNC machines, Robotic Technology, laser cutting machines, elevators, scanners, machine tools, engineering tools, Electrical/ Electronic Equipment's, Foundary and forging machines, Quality control accessories and many more were displayed in the expo. The expo was spread over the area of 500000 SQ FT Display Area and 1200 Brands and 10000 products, 850 Live Machines were on display. 575 Exhibitors from India and 20 countries has participated in the expo.
Managing Director of Udaan media GS Dhillon said that the large number of visitors attended the exhibition in four days. The exhibitors has generated business queries more than Rs 2000 crores. The motive of the Expo to display latest technology for the Industrialists to support Industry 4.0 and Smart Manufacturing.
MLA Sanjay Talwar said that such exhibitions would help in Industrial growth. The Punjab Government has sanctioned Exhibition center and the construction will be started in 9.5 Acres of area. Adjoining the exhibition center, Eastend club, mall and leaisure valley will be developed.  
The Expo was supported by MSME and NSIC, Association of Ludhiana Machine Tool Industry, Auto Parts Manufactures Association (India) and other associations. On last day, Manjit Singh Khalsa, DS Chawla Presiden tof UCPMA, Jagtar Singh of machine Tools Association, Gurpargat Singh Kahlon President of Auto Parts Manufacturing Association, Upkar Singh Ahuja President CICU, Gurmeet Singh Kular President FICO felicitated Udaan media and communication team for organising such expo which will help the industralists in learning and adopting latest Technology. On this ocassion, Pawan Kumar Regional LPG Manager (North) of Bharat Petroleum, Gurdeep Singh Gosha, Jagdev Singh Vicky Kumar, Gagandeep Singh Giaspura, Baldev Singh Amar, Malkit Singh, Satnam Singh Makkar, Sushil Kumar, Abhiinder Singh besides several others were present. /(Feb 24, 2020)