Foundation stone of new community health center, hospital building laid at Doraha
Although building will be visible on highway but it will be calm/peaceful as explained by its architect Sanjay Goel from Designex Architects Ludhiana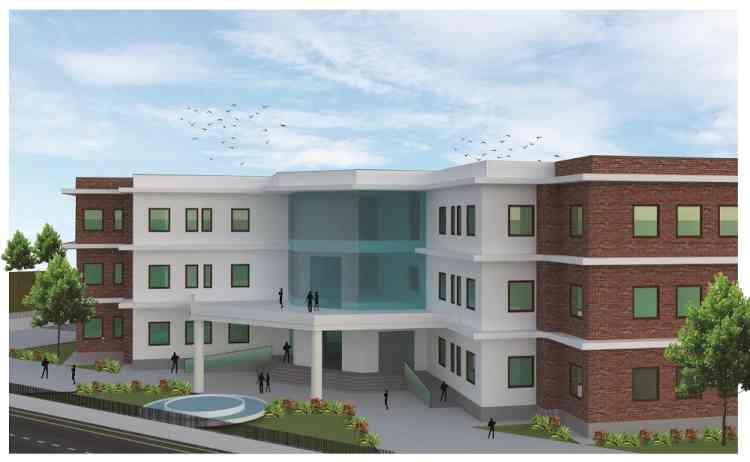 Ludhiana: Foundation stone of new community health center, hospital building at Doraha was laid today by Balbir Singh Sidhu - Health Minister, Govt of Punjab in the presence of area MLA, prominent citizens, doctors, engineers and architects. 
Site is on the main National highway and very near to village of late ex Punjab CM Beant Singh, who died on same date 25 years back. 
This upcoming CHC by Punjab Health Systems Corporation (PHSC) will solve many healthcare issues of people residing in and around Doraha and shall decrease pressure on Ludhiana hospitals.
Upcoming CHC will have all important OPDs, emergency, investigations including labs/x ray/ ultrasound/ ECG, male- female wards, operation theatres, pharmacy, private rooms, doctors rooms, offices and all services/amenities.
Proposed building will be four side open with three floors. Building design is very comfortable as well as innovative.  Building is going to have best natural light and ventilation.  Although building will be visible on highway but it will be calm/peaceful as explained by its architect Sanjay Goel from Designex Architects Ludhiana. 
CHC will be very useful in case of emergencies on National highway. 
Total covered area will be app 45000 square feet in first phase. There will be sufficient parking inside the campus with landscaping. 
Project architects are very satisfied to start this project during covid crisis as not only Ludhiana or Punjab but our country needs many more big healthcare projects for public