Forester Prabhunath Shahi felicitated as corona warrior on 74th Independence Day
Shahi has been advocating the use of traditional Ayurvedic herbs and medicinal plants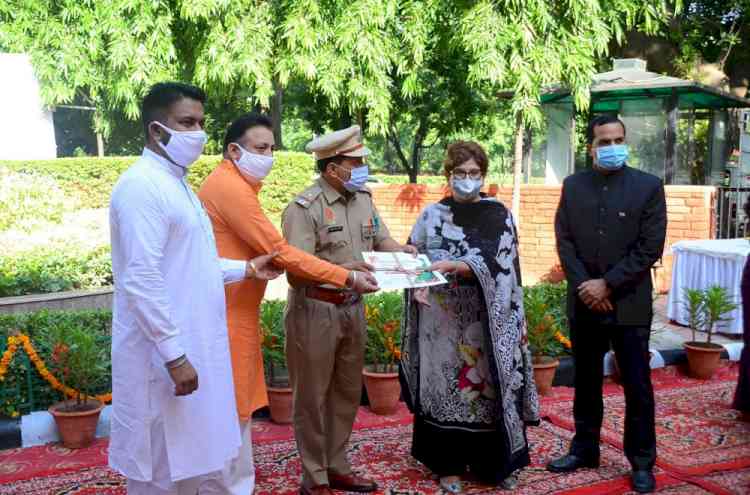 Chandigarh: Chandigarh Mayor Raj Bala Malik felicitated Prabhunath Shahi, Forester, Forest Department, Chandigarh (UT) as a Corona Warrior for his yeoman's service during the COVID 19 pandemic.
 

Shahi has been advocating the use of traditional Ayurvedic herbs and medicinal plants like Giloy, Ashwagandha, Tulsi, Kalmegh etc to boost residents' immunity against the n coronavirus. His efforts were recognised by the Chandigarh Municipal Corporation and he was honoured by Mayor Raj Bala Malik at an event held on Independence Day under strict social distancing norms.
 

After being felicitated Prabhunath Shahi reiterated his aim of making traditional Indian herbs and medicinal plants a way of life for all in the COVID era.  
 

Shahi said, "I am thankful to Mayor Rajbala Malik and the Chandigarh Municipal Corporation for honouring me on the occasion of Independence Day. This will provide me with a renewed vigour to take my initiative to its logical conclusion. I take an oath to that I will work hard to inculcate a habit among the youth as well as all others to adopt Ayurvedic plants in their daily routine to keep the n coronavirus at bay. When I am free from my official duties, I will engage with different organizations and resident welfare associations by taking full precautions against COVID 19 to promote the use of medicinal plants like Giloy, Ashwagandha etc, which central government's AYUSH department has also said are good to boost immunity."
 

Shahi also thanked officials of MC, all councillors, top officials of the forest department and all well-meaning residents of Tricity for bestowing the honour of COVID Warrior on him.