Following appeal by Sukhwinder Singh Bindra, private school waives off two months fee of students
Management of Gyan Niketan Public School decide to waive off fee for April and May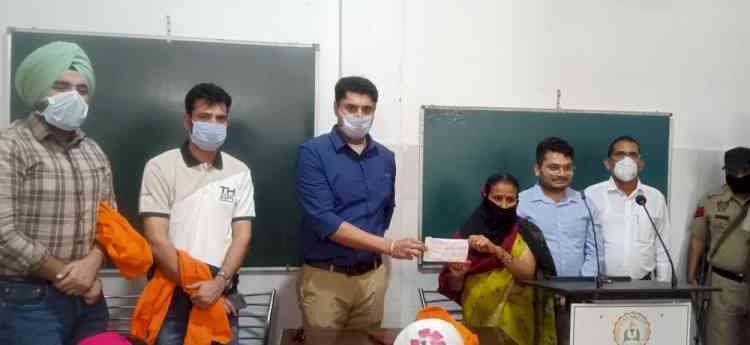 Ludhiana: Following the appeal of Punjab Youth Development Board Chairman Mr Sukhwinder Singh Bindra, the management of Gyan Niketan Public School, located in Deep Colony area of Dhandari Khurd, here, have decided to waive off two-month fee of its 1000-odd students for the months of April and May 2020. Besides, the school management has also decided to give a 50% discount on the fee of 200 needy students for all the months till things do not normalise.
            Mr Sukhwinder Singh Bindra today visited the premises of Gyan Niketan Public School, an English medium private school, where the majority of the students are from migrant families. He said that the labour class has been the most affected due to the curfew/lockdown and to ensure that they do not stop sending their children to school due to non-payment of fee, he had requested the authorities to waive off fee for the months of April and May 2020.
            He thanked the school management for approving of his request and assured all possible help in the near future as well. He said that this particular school is more than 19 years old and has a strength of 1000-odd students, majority of who are from the migrant families whose parents are labourers. He said that he is pleased to inform that some of its students have even scored 98.8 % in class twelfth board examinations.
            Mr Bindra also appealed to other private schools to show a bigger heart and waive off fee of its students. He said that during today's testing times, even the middle class is suffering financially and that is why all the private schools should come forward and contribute in this hour of need. On this occasion, he also interacted with the parents and said that the Capt Amarinder Singh led Punjab government is committed to provide the best educational facilities for its students.
            Prominent among those present on the occasion included Board's district coordinator Mr Nitin Tandon, School director Mr Rakesh Kumar, school principal Mr Deepu Kumar Singh, besides several others.