FLO signs MoU with We Hub 
To provide incubation support to existing women entrepreneurs of FLO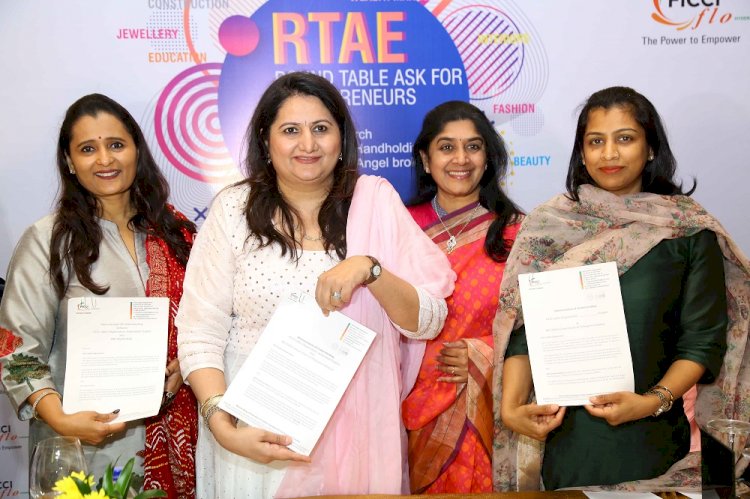 FLO singed MoU with We Hub to provide We Hub support to FLO Entrepreneurs. Seen in the pic is Sona Chatwani and Deepthi Ravula--6, Ajitha extreme left and Usha 2nd from right.
Hyderabad:  FICCI Ladies Organization (FLO), Hyderabad Chapter organises Round Table Ask for Entrepreneurs (RTAE), here in the city today.
 
It is, according to Ms. Sona Chatwani, Chairperson of FLO Hyderabad, a knowledge enrichment activity connecting FLO Entrepreneurs(Women MSMEs, SMEs, Startups and others) with mentors in some chosen areas such as Branding, Market Research, Mentorship and handholding, Investment/Angel brokers, Incubation and Business Networking to support its members in their entrepreneurial journey, development and growth.
 
The Panel of mentors, experts, consultants who interacted with 70 plus FLO members include Ms.Deepti Ravula, CEO of We Hub- for startup and acceleration for existing business; Mr.Ramakanth of RBC Worldwide – for Branding, Digital and Marketing;  Shilpa Jain of Hiregange and Associates - for GST related queries;  Mr.Seetharam Prayaga & Mr. Kartik Damodar of Guardian Consultancy Services Private Limited for Financial consultation and Mr.Laxmi Narayana of Laxminarayana and Associates - for legal-related queries
 
Welcoming the gathering, Sona Chatwani, FLO Chairperson shared how it began. It all started with InHub, the interactive and networking kiosk that we started initially to extend additional support to our members, which proved to be hugely effective. Lots of ideation and positive feedback was given. Our members, at various times at Inhub kiosk, expressed the need for business networking, visibility for their products upscaling their business, GST workshops, investment and incubation ideas.
 
And also, in the FLO Google Survey, to which 128 members responded, each expressed some need or the other around business growth. Innumerable requests on concerns about business development - from startups, SMEs and established businesses have been coming in regularly.
 
We perceived the need to connect with our members with entrepreneurial handholding, Sona shared.
 
The same will be addressed by an industry expert and consultant from the relevant field whom we have collaborated and empanelled on the FLO RTAE board!
 
This interaction aims at supporting Start-ups, Early-stage businesses, and Established businesses with new products/new directions.
 
During the three-hour-long interactions FICCI Ladies Organisation Hyderabad announced their collaboration with  WE HUB, a Government of Telangana initiative, to provide incubation support to the women entrepreneurs under FLO through business development support, technical support, financial advisory support and access to experts and mentors.
 
I gathered that FLO has many entrepreneurs whose growth is stagnated. Through this MOU we will help those entrepreneurs, scale them up to next level and create more opportunities.
 
FLO is positive that this association with WE HUB will foster the entrepreneurial culture, transform business ideas and positively add to the economic workforce of the nation said Sona Chatwani
 
Addressing the gathering on branding, Ramakanth outlined the importance of Branding. The branding is nothing but, it is a psychological warfare. It is not a fact driven process, but is a belief and assumption driven one. It is a scientific process, he said
 
The verticals that support branding are Advertising, Public Relations, exposure on Digital Platforms, Direct Marketing(Exhibitions),  Ramakanth Explained.
 
Branding increases consumer connect. It has to be sustainable effort. Ideally 4% of budget has to be spent on branding. But, it is an age old dictum which doesn't make any sense in current circumstances. Consider Branding budgets as investments he told the gathering.
 
Shilpi Jain spoke about taxation and its importance. She told them to take care of GST. It is more dangerous than Income Tax she observed. It can threaten your own existence, she added.
 
Deepthi Ravula spoke about We Hub, it's role,  how FLO members can make use of We Hub. We want women entrepreneurs to be employment generators. 
 
WE Hub, Deepthi explained, is India's first State led incubator with the primary goal to promote and foster women entrepreneurship by way of Incubation, Access to Government and Building a collaborative ecosystem. The mission is to ensure that all women entrepreneurs in the country have access to technical, financial, governmental and policy support required to start-up, scale-up and accelerate with global market access.
 
 
Financial Consultant Karthik Damodar said 40 per cent of Startup's fail because of financial mismanagement.
 
Poonam Pavni is also empanelled with us for branding and marketing and will be addressing us at a later stage in the other sessions, Sona Chatwani shared.
 
Based on today's ask and queries, we shall be scheduling further workshops and sessions and will have more members on the panel, Sona added.
 
FLO is a 36-year-old division of the Federation of Indian Chambers of Commerce and Industry (FICCI), the apex body of industry and commerce in India. It is an all India Organization for women headquartered at New Delhi. It represents over 6800 women entrepreneurs, professionals and corporate executives. It has 16 Chapters pan India. Hyderabad is one of the most vibrant chapters, having 741 members. In the last year alone it has added 121 new members.
 
The theme for the FLO Hyderabad chapter for this year is: "Reframing Women Empowerment". We FLO Hyderabad has been organizing programs in line with the theme this year on rebooting, reconnecting and reinventing with meaningful events, capacity building workshops and skill development initiatives.