FLO Hyderabad Chapter conferred FLO National President's recognition for its initiative RTAE
The award was conferred during virtual change of guard at national level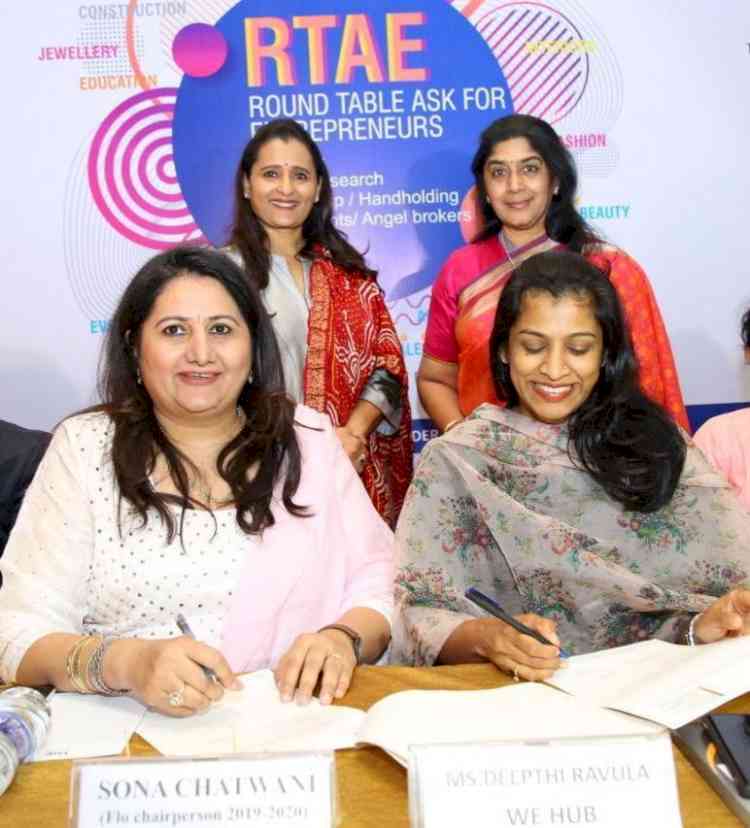 File photo: Sona Chatwani(left) and Deepthi Ravula while signing the agreement in January 2020.
Hyderabad: The FICCI Ladies Organisation's outgoing National President, Ms. Harjinder Kaur conferred honour and award to FLO Hyderabad Chapter and its Chairperson Ms. Sona Chatwani for an initiative "Interface with Government best policy intervention for women". The award was conferred during a Virtual Change of Guard at the National Level, where a new National President took over from the current President Harjinder Kaur. 
 
The Award was bestowed upon the Chapter for its maiden edition of "RTAE—Round Table Ask for Entrepreneurs," FLO members, mentors connect program. During the program which was held in January this year, FLO signed MoU with We Hub to provide incubation support to the existing women entrepreneurs of FLO.  
 
The laudable initiative was not just aimed at connecting with mentors, but also nurture them to be successful women entrepreneurs and become employment generators, shares Sona Chatwani, Chairperson of FLO Hyderabad Chapter.  
At the 36th FICCI FLO Annual General virtual Session  held on Sunday,  FLO Hyderabad's Chairperson Sona Chatwani while receiving the award said  " I'm humbled for choosing me and Hyderabad Chapter for the Award .Thhrough FLO RTAE Initiative we were able to take a step forward in forging collaborations with WE Hub, Telagana state's incubation ecosystem for women entrepreneurs. These government interfaces brought in advanced learnings that enabled our members to confidently navigate further in their business ventures.
RTAE was knowledge enrichment activity connecting FLO Entrepreneurs(Women MSMEs, SMEs, Startups and others) with mentors in some chosen areas such as Branding, Market Research, Mentorship and handholding, Investment/Angel brokers, Incubation and Business Networking to support its members in their entrepreneurial journey, development and growth. 
 
The Panel of mentors, experts, consultants interacted with 70 plus FLO members include Ms. Deepti Ravula, CEO of We Hub- for startup and acceleration for existing business and many others.  As the first incubator for Women Entrepreneurs in India, WE HUB has been working with FLO entrepreneurs to enable them to work on their Marketing, Pitching etc.
 
The program that was held in January received an overwhelming response from members. And had created a great impact subsequently. The initiative captured the attention of FLO Chapters across India and thus qualified for a national recognition share Sona Chatwani. 
 
FLO is a 36-year-old division of the Federation of Indian Chambers of Commerce and Industry (FICCI), the apex body of industry and commerce in India. It is an all India Organization for women headquartered at New Delhi. It represents over 6800 women entrepreneurs, professionals and corporate executives. It has 17 Chapters pan India. Hyderabad is one of the most vibrant chapters, having 715 members. In the last year alone it has added 116 new members. 
 
The theme for the FLO Hyderabad Chapter for this year was: "Reframing Women Empowerment". We FLO Hyderabad has been organizing programs in line with the theme this year on rebooting, reconnecting and reinventing with meaningful events, capacity building workshops and skill development initiatives.
 
The local Chapter Virtual change of guard is slated for May 15, where a new successor will succeed Ms. Sona Chatwani.