Five-day AICTE ATAL sponsored FDP on strategic planning and implementation in digital era begins at CUPB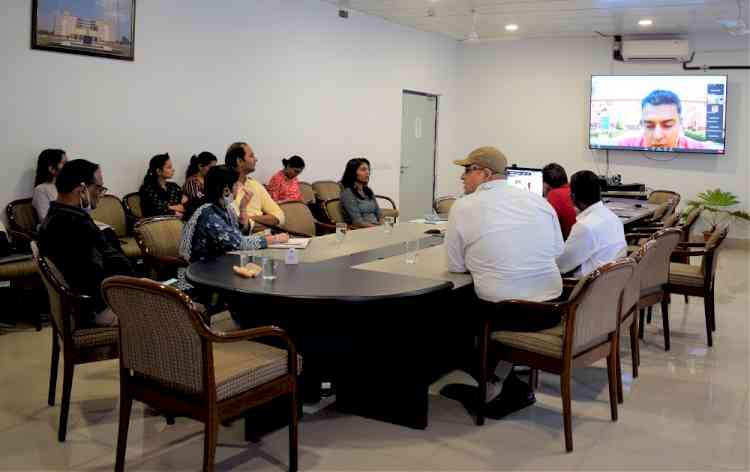 CUPB faculty and students attending lecture session during the FDP Programme.


Bathinda, October 5, 2021: The School of Management of the Central University of Punjab, Bathinda (CUPB) under the patronage of Vice Chancellor Prof. Raghavendra P. Tiwari commenced AICTE-ATAL sponsored Faculty Development Programme (FDP) from 4—8 October 2021 on the focal theme of 'Strategic Planning & Implementation in Digital Era'. This programme is the part of 52 ATAL FDPs programme series which was launched in the joint inaugural ceremony hosted by AICTE Training and Learning (ATAL) Academy. Around 122 participants including faculty members, research scholars, Corporate Professionals and PG students from 80+ Higher Education Institutes of different states across the country registered in this programme.
At the start of the programme, Dr. Anand Thakur, Programme Coordinator, & Dean, School of Management, welcomed the participants and introduced the programe theme. He stated that the objective of this FDP is to acquaint the participants with challenges faced during strategic planning & its implementation with special reference to the digital era.
Prof. V.K. Garg, Dean Student Welfare, while delivering the opening remarks mentioned that the focal theme of this programme is very relevant as in the 21st century, ICT and digital technologies are playing a vital role in the economic development of the major countries.  He talked about the advantages and disadvantages of digitization in our daily life and stressed on the need to adopt logical systematic approach while doing strategic planning.
Prof. Monisha Dhiman, Director IQAC, mentioned that this programme will feature 14 expert lecture sessions by eminent academicians who will share their views on different sub-themes including Strategic Planning in the Digital Era; Strategic Implementation in the Dynamic Business World; Foundation for Strategic Management; Strategy Formulation; Strategic Analysis & Choice; Strategy Implementation; Strategy Evaluation and more.
On the first day, Dr. Prashant Salwan from IIM Indore, Prof. Manjit Singh from Punjabi University, Patiala; and Prof. Vikas Chaudhary from NIT Kurukshetra expressed their views on the topics of Corporate Level Strategies; Strategic Planning in the Digital Era: Issues and Challenges; and Organizational Appraisal respectively. The FDP training programme will continue till October 8, 2021.