First aid training programme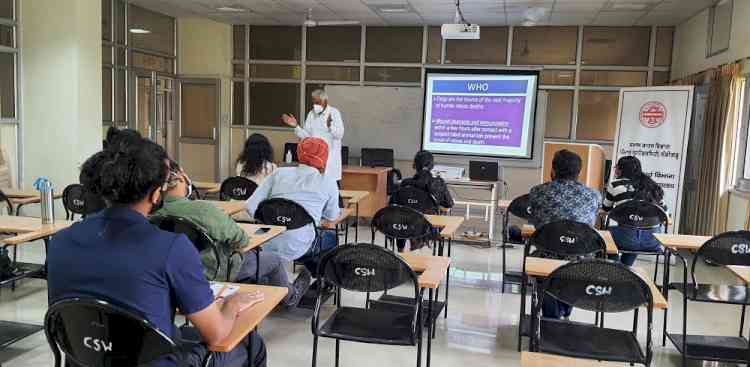 Chandigarh, September 25, 2021: Today, i.e. September 25th, 2021, the students of Masters in Social Work (MSW) 3rd semester were imparted with the first AID Training by Dr Rakesh Khullar, Ex-Medical Officer, Health Centre, Panjab University, Chandigarh.
He shared the three P formula – Preserve life, Prevent Injury and Promote Recovery as the most crucial aspects in First AID. He said that saving the life of the individual after any accident or injury is the most important task. We should also work on avoiding the injuries, as prevention is better than cure. He emphasized the role of promoting the recovery rate by undertaking appropriate steps.  He shared the importance of the golden hour, which is the first hour after any injury as the most crucial in saving the life of the individual.  He said that the person who met with an accident should be taken to the hospital at the earliest.
He also demonstrated to the students the exact way of washing hands with other hygiene maintaining activities. He shared the importance of using soaps over other material and how to have maximum foam from the soaps. He also shared various precautions to be taken-up after any animal bite like dog, cat, rat or monkey. The most important thing after animal bite is to wash it under running tap water for at least 15 minutes and rush to the doctor immediately for it's vaccination. He gave the RICE acronym in case of a foot sprain in which Rest, Icing, Compression and Elevation are the most important aspects that we have to follow.
Gaurav Gaur, Chairperson, Centre for Social Work also addressed the students and said that all these training programmes are meant to enhance the capacity of students. He said that all the skills learnt today would be useful in future especially in the fieldwork to all of them.
Himani Pant one of the students who attended the session said that " it was an eye opening session for me and I really liked the way all these things were conveyed to us and especially the RICE acronym" Tanya Chandel welcomed the resource person and Tabisha Kanwar, from MSW – 3rd semester proposed a formal vote of thanks.