Fino's neighbourhood human ATMs provide banking to local residents 
The points are spread across the remote areas of Ludhiana district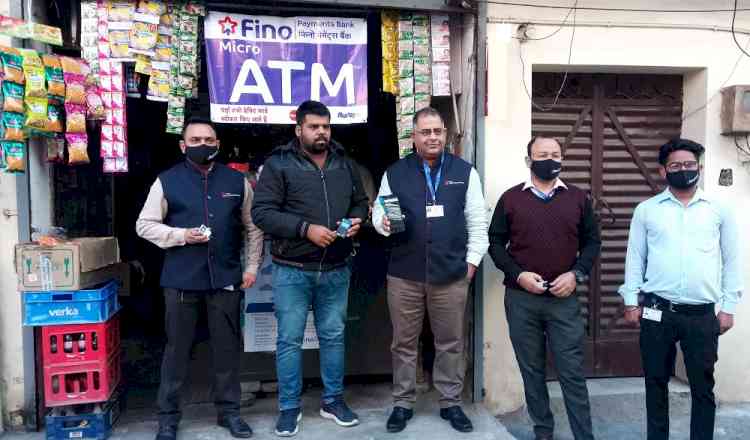 Vishal Gandotra, Zonal Head, Fino Payments Bank along with other officials launching Fino Payments Bank point at Kochar market in Ludhiana.
Ludhiana: For most people living in and around Gurcharan Park, Kochar Market in Ludhiana, be it small business owners, workers, daily wagers or residents, banking has become easy. A neighbourhood shop is doing a great service by providing access to banking at their convenience.
 
Dhruv Malhotra, a local kirana merchant in Kochar market, has converted his shop into a Fino Payments Bank point. Equipped with Micro ATM and Aadhaar enabled payment system (AePS) devices, Dhruv helps people do deposit, withdrawal or money transfer transactions and even open new accounts. Customers can also purchase insurance (health, life, Covid and motor) pay utility bills, recharge mobile and DTH.
 
Darpan Anand, Senior Divisional Head (North), Fino Payments Bank said, "In our endeavour to make banking simple and convenient for people, we are focussing on three critical elements. Firstly, improve banking access in cities, towns and villages by transforming the neighbourhood kirana, dairy, BPCL outlets and other shops into banking points. Secondly, provide the convenience of digital banking with micro ATMs. Thirdly, we have partnered with NBFC companies wherein their customers can pay their EMIs at our points without having to go to a bank branch."
 
Dhruv Malhotra managed outlet facilitates around Rs 18 lakhs worth of transactions every month of which around Rs 10 lakh is towards EMI payments by borrowers of NBFC loans. The shop is a part of Fino's close to 5500 strong and growing network of banking points in Punjab. This network also includes around 300 outlets of Fino's strategic partner Bharat Petroleum (BPCL) spread across the state. In Ludhiana, Fino has close to 1000 merchants as banking points.
 
Vishal Gandotra, Zonal Head, Fino Payments Bank said, "Neighbourhood banking outlets like those managed by Dhruv Malhotra are open till late in the evening allowing customerstransactat their convenience using either a debit card or with Aadhaar authentication. With no need to visit a bank branch, customers can focus on their work while merchants can earn on every transaction.  Also, cash is always available at these outlets unlike at some ATMs,"
 
The points are spread across the remote areas of Ludhiana district. With Fino's neighbourhood banking services people in nearby localities and remote villages areas enjoythe benefits of new age digital banking in an assisted manner.
 
During lockdown, people found the neighbourhood points extremely convenient to withdraw cash, especially beneficiaries of government schemes in villages. This indicates growing acceptance to Fino's neighbourhood human ATMs.