Financial mismanagement of Modi Govt responsible for collapse of banking sector: Angad Dutta
Youth Congress workers hold protest in Jalandhar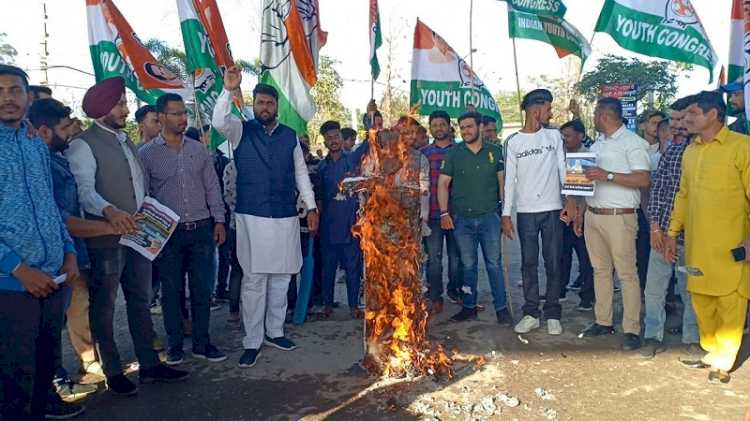 Jalandhar: Today Angad Dutta President Youth Congress Jalandhar (U), Sunny Kumar President Youth Congress Jalandhar North along with the workers of Youth Congress Jalandhar North burn the effigy of Prime Minister Narendra Modi over the moratorium placed on Yes Bank and alleged that Prime Minister and his ideas have destroyed the country's economy.
During the protest, Angad Dutta said that the BJP government is in power for six years. Their ability to govern and regulate financial institutions stand exposed. First it was PMC Bank. Now it is Yes Bank.  The Finance Minister and BJP government tried to shift the blame on bad loans of UPA government but they failed to explain how the loan amount raised from Rs 55,633 crore to Rs 2,41,499 crores in just five years.
He further said that the government job is to provide the solution not to announce the problems. For how long the citizens of the country bears the burden of government's mismanagement. He further added while Yes Bank's loans jumped from Rs 55000 crore in 2014 to Rs 2.41 lakh crores in 2019-2020 and the amount of the fraud also increased dramatically. The government should tell the names of the people to the nation and also explain to them how such frauds are allowed. 
Sunny Kumar said that this Union Cabinet is the most incompetent cabinet of all the times. Modi is not only ignorant of the economy but he also feels insecurity with the capable persons. Now the citizens of the country can easily differentiate with Modi Government and Dr Manmohan Singh Government. 
Parveen Kumar President Jalandhar Central, Bob Malhotra Gen Sec Jalandhar Youth Congress, Jasskaran Sohi General Secretary  Youth Congress Jalandhar, Charanpreet Singh Channi  General Secretary Youth Congress Jalandhar, Jai Abhishek Bhagat General Secretary Youth Congress Jalandhar, Vishal Kaul,  Ishu Kalra, Mohit Gurdaspuria, Bunty Sharma, Rohit kumar, Vinay Kumar, Mohit Kumar, Gaurav Kumar, Vanshu Shanky, Ravi Channi, Amit Sharma, Pintu Saini, Ashish Thakur, Raja Gharu, Ashoke Kumar, Raghav Jain and along with the more than 100 workers of youth congress also present in the event.