FICO organized budget viewing session 2020-2021
Budget is non-industrial friendly budget, says FICO president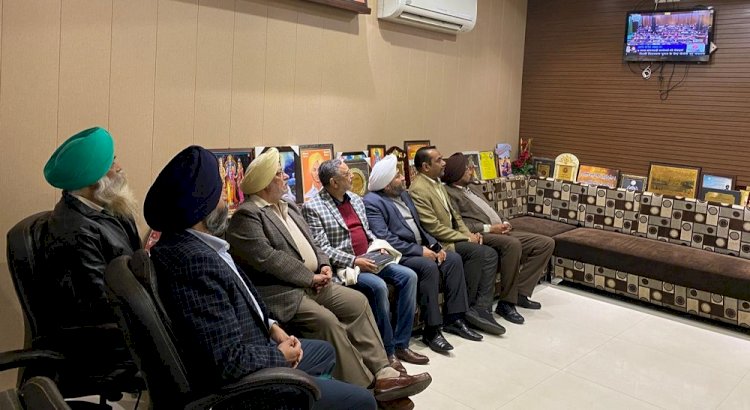 Ludhiana: FICO (Federation of Industrial & Commercial Organization) on Saturday organized a special screening of Union Budget 2020-2021 at FICO Secretariat, Jaimal Road, Janta Nagar, Ludhiana under the chairmanship of Gurmeet Singh Kular President along with Rajeev Jain General Secretary FICO.
Kular shared his observations, where he welcomed the decision of "raise in turnover threshold for audit from Rs 1 crore to Rs 5 crore" he also said that this budget is non-industrial friendly, as the under noted points have again been neglected.
•    No Special Package for MSME Sector has been announced, which is the backbone of the Indian economy. Rather in this period of recession, some special schemes should have been introduced to encourage the MSME Sector.
•    Tricky Deductions in Personal Income Tax: With a view to simplify the direct taxation structure, the Finance Minister announced new income tax rates for individuals opting to forego exemptions, a move that will bring down the income tax outgo of those earning Rs 15 lakh a year. It will discourage the people to invest their money in PPF's Insurances etc.
•    Privatization of LIC: the decision to privatize the LIC will simply discourage the people to invest in insurance sector, moreover those who have already deposited amount in LIC, will always be in doubt, whether to continue or withdraw.
•    The income tax for the Private Limited/ Public Limited companies is capped to maximum of 25%, whereas in the case of Proprietorship/ Partnership firms it is 30%, which is not justified and should have been revised, but it is also neglected by the government.
•    The Rationalization of GST was the demand of the industry, that there should have been only two slabs i.e. 8% & 12% of GST.  But the rationalization of GST also has been neglected in the budget.
Raghbir Singh Sohal Head Plywood Division, Gurvinder Singh Sachdeva Head Trade Division, Sukhdial Singh Basant Head Machine Tool Division, Gurmukh Singh Rupal Head Sewing Machine Division FICO and Kuljeet Singh Sethi were among those present.