FICO observed International Forest Day at Mattewara Forest Area
Around 20 members along with their families gathered midst Mattewara Forest, offered prayers and had a moderate Forest walk of around 1000 steps to celebrate the International Forest day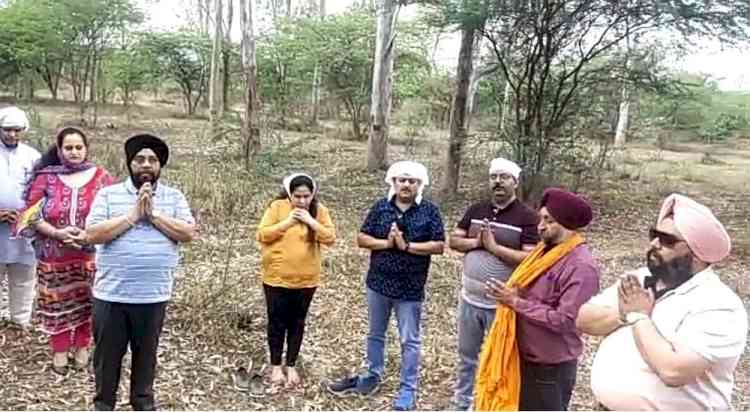 Ludhiana: A delegation of FICO under the leadership of Mr. Ashpreet Singh Sahni Organizing Secretary FICO & Mr. Gagnish Singh Khurana Head FICO Agricultural Implements Division gathered at Mattewara Forest Area and offered Ardaas (Sikh Prayer) on the eve of International Forest day. 
The UN General Assembly has proclaimed March 21 as International Forest day in 2012 and is being celebrated since. The Day celebrates to raises awareness of the importance of all types of forests. All over the world people are encouraged to undertake activities and organize camps to bring consciousness of forests. 
Around 20 members along with their families gathered midst Mattewara Forest, offered prayers and had a moderate Forest walk of around 1000 steps to celebrate the International Forest day.
 
It is exigent to mention that recently government of Punjab has planned of setting up an Industrial park in the vicinity of Mattewera forest which may affect the forest to a large extent. 
Mr. Gurmeet Singh Kular President FICO said "Mattewara forest is home to many birds and animals such as peacock, antelopes, deer and other old varieties of flora and fauna. There is only around 3.65% of the Punjab's area is under forest, and shares the significance of protecting the forests for our future generations." 
Mr. Gagnish Singh Khurana, Head FICO Agricultural Implements Division who is a noted environmentalist and activist said "As this year the theme of International Forest day was History, theme and Significance; Mattewara forest is one of the oldest forests of Ludhiana having its link with Macchiwara forest and hold historical value for the city and Sikh community as well." 
Mr. Ashpreet Singh Sahni, Organizing Secretary FICO said "Awareness was created by explaining the hazards of Industry near to forest and how our forests are important for our future generations." 
Mr. Alok Lamba Executive Member FICO said, "A forest walk organized was boon to have feel of fresh air these forests provide to us and how important to us. Forests are truly lungs for the city."