FICO donates blood to Deep Hospital in memory of Darshan Singh Kular
258 units of blood were collected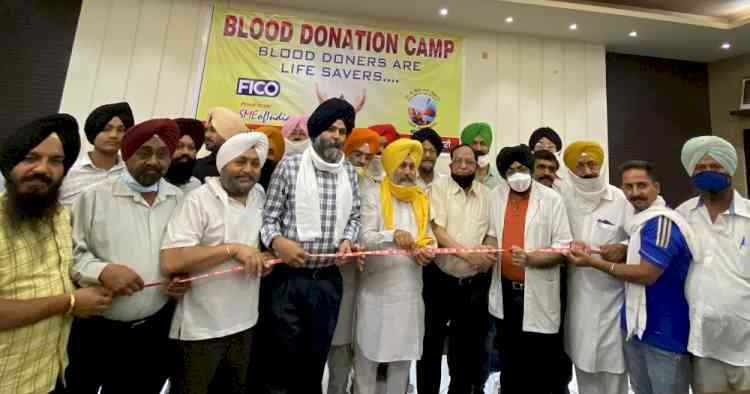 Ludhiana: Federation of Industrial & Commercial Organization (FICO) organized the third annual blood donation camp in association with Deep Hospital and Bhai Ghanaiya ji Mission; at FICO Secretariat, Jaimal Road, Janta Nagar, Ludhiana. 
The Blood Donation Camp was Inaugurated by K.K. Seth, Chairman, FICO along with Gurmeet Singh Kular President FICO, Dr. Baldeep Singh Deep Hospital, Taranjit Singh Nimana President Bhai Ghanaiya ji Mission, Jathedar Hira Singh Gabria Former Minister Punjab. 
Speaking on the occasion, Gurmeet Singh Kular spoke about the importance of donating the blood. He said today 258 units of blood were collected and donated to Deep Hospital. He thanked the donors for their support. He said the donated blood will give life to someone.
Ranjit Singh Dhillon President Shiromani Akali Dal Ludhiana Urban, Surinder Singh Chauhan, Rajinder Singh Bhatia, Satnam Singh Makkar, Propaganda Secretary FICO, Balbir Singh Mankoo Finance Secretary FICO, Gurwinder Singh Sachdeva Head FICO Trade Division, Gurmukh Singh Rupal Head Sewing Machine Division FICO, Jagdev Singh Vicky Kular Executive Member, Inderjit Singh Birdi Executive Member, Baljit Singh Bansal Executive Member, Inderjeet Singh Navyug, Udhamjeet Singh, Swaran Singh Moholi, Balbir Singh Mankoo, Mohinder Singh Kanda, Gurpreet Singh Guri, Gurjeet Singh Chhabbra and Jasmeet Singh Sahib Kular Executive Member FICO were among those present.