FICO distributes reflectors amongst truck drivers
To spread awareness about importance of reflectors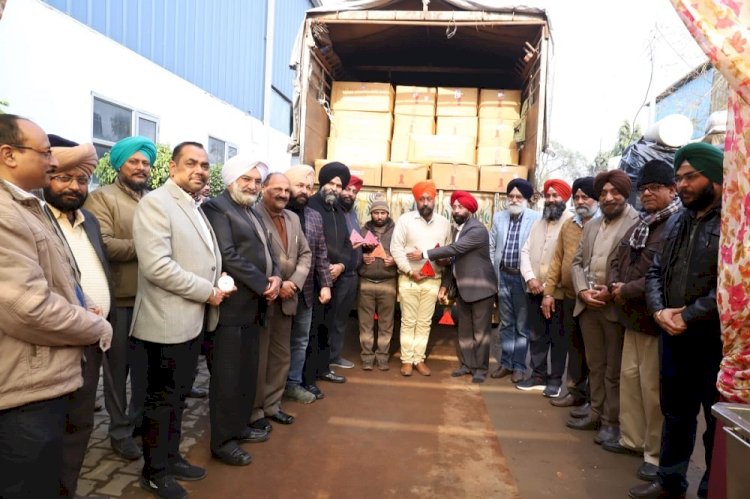 Ludhiana: FICO (Federation of Industrial & Commercial Organization) distributed reflectors amongst truck drivers to spread awareness about the importance of reflectors; and celebrated the traffic awareness week being initiated by the Ludhiana Police.
FICO president Gurmeet Singh Kular said that as the foggy days are approaching, FICO has distributed the reflectors amongst truck/ tempo drivers in focal point, just to increase the visibility of the vehicle in low light conditions, which gets poor when the fog comes into play.
Rajeev Jain, General Secretary, FICO said that it is a continuation to the "accident free Ludhiana activity done by FICO every year, just like previous years when FICO installed reflectors on bicycles, tractor trolleys etc. This year FICO has distributed reflectors amongst the truck/ tempo drivers in Focal Point of Ludhiana.
Manjinder Singh Sachdeva, President, BRADO & General Secretary UCPMA said in coming days they will cover tractors/ trolleys also under this initiative.
Amongst present were Manjeet Singh Khalsa, Japneet Singh Chhatwal Head Young Leader's Forum, Gurcharan Singh Mankoo Sr. Vice President UCPMA, Valaity Ram Joint Secretary UCPMA, Rajinder Singh Sarhali Propaganda Secretary UCPMA, Achhru Ram Finance Secretary UCPMA, Sarabjeet Singh Kaka Ex-Councillor, Paramjeet Singh GM R & D Centre for Bicycle & Sewing Machine.