Ferozepur to become hub of chilies
First chilly cluster of Punjab inaugurated by Speaker Sandhwan and Cabinet Minister Jauramajra at Village Mahalam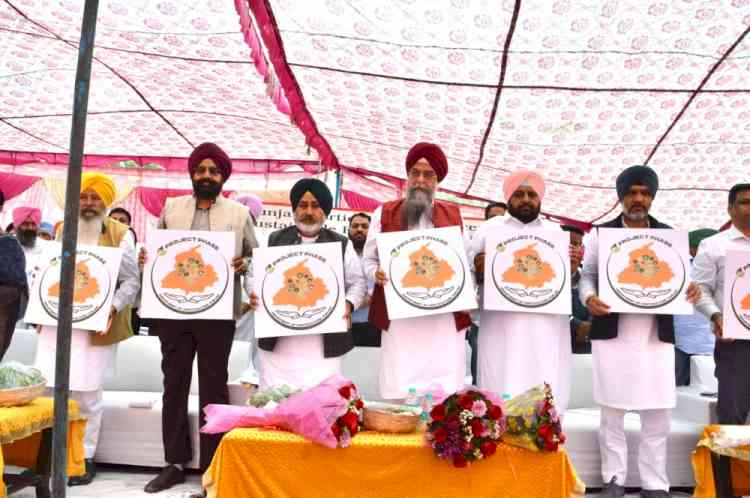 Ferozepur, March 17, 2023: In an effort to increase the income of the farmers of the state and to encourage crop diversification, Chetan Singh Jauramajra, Cabinet Minister today inaugurated  the   Phase one of Chilly Cluster at village Mahalama. On this occasion, the cabinet minister was accompanied by Speaker Punjab Vidhan Sabha Kultar Singh Sandhawan, Mahinder Singh Sidhu, Chairman PUNSEED and others.
Addressing the congregation, Speaker Sandhwan said that state government is trying hard to make agriculture a profitable business and therefore the government has increased the budget for agriculture. Giving details about the production of chillies in Punjab, Chetan Singh Jauramajra said that 19,963 metric tonnes of green chillies are being produced in an area of about 9,920 hectares in Punjab.  Major chilly producing districts of Punjab are Ferozepur, Patiala, Malerkotla, Sangrur, Jalandhar, Tarn Taran, Amritsar, SBS Nagar and Hoshiarpur.  "Out of these, districts Ferozepur is the largest producer of chillies with an area of 1700 hectares, followed by Jalandhar with 1195 hectares and Tarn Taran with 1106 hectares", said cabinet minister adding the Chilli farming is known to provide employment to more than 8000 people directly and more than 16,000 people indirectly
Talking about the plight of Chilly farmers, Jauramajra said that earlier the Chilly crop did not get the proper price due to which the farmers were getting discouraged from crop diversification but now with the formation of this cluster the farmers will be able to market the Chilly crop successfully and they will also be able to get a good profit.
On this occasion, the speaker Sandhwan also explained the importance of this chili cluster and said that increased efficiency and technological integration in the value chain will further improve the quality of the produce in the domestic and international markets.  Earlier, MLA Ferozepur Rural Rajnish Dahiya, MLA Ferozepur Urban Ranbir Singh Bhullar along  MLA Guruharshai Fauja Singh Sarari welcomed the cabinet minister and the speaker and demanded that apart from making this border district a chili estate, it should be made a horticultural estate. On this occasion, Amit Kumar Joint Development Commissioner-cum-CEO  P.S.R.L.M.  Mohali,  Director Horticulture, Punjab Shalinder Kaur, Rajesh Dhiman, Deputy Commissioner, Ferozepur and Arun Kumar Sharma, Additional Deputy Commissioner were  also present.
 
Chetan Singh Jauramajra, Minister for Freedom fighters, Defense Services Welfare, Horticulture, Information and Public Relations along with Speaker Punjab Vidhan Sabha Kultar Singh Sandhawan and other while inaugurating the first Phase of Chilly Cluster at village Mahalam