Fatehgarh Sahib MP Dr Amar Singh takes stock of procurement in mandis of Sahnewal Area
visits the mandis at Sahnewal, Koom Kalan, Jandiali and Khasi Kalan of Ludhiana district today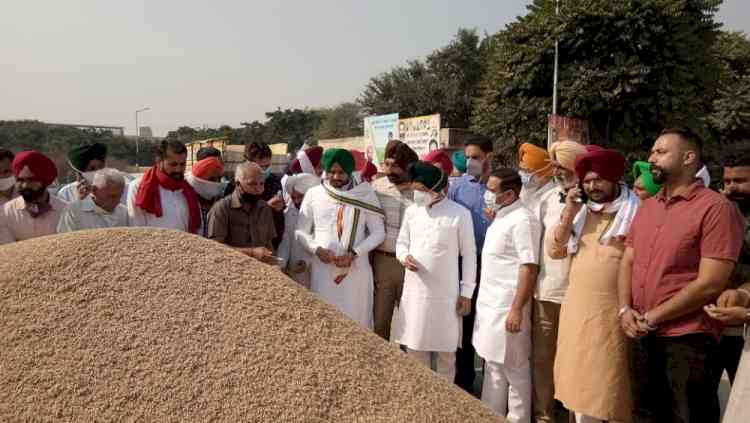 Ludhiana: To ensure smooth paddy procurement operations in the Mandis of Sahnewal area and to take stock of the arrangements, Fatehgarh Sahib MP Dr Amar Singh today visited the mandis at Sahnewal, Koom Kalan, Jandiali and Khasi Kalan of Ludhiana district today. He also interacted with farmers, commission agents (Arhtiyas) and Officials to enquire about their problems related to purchasing.

After inspecting procurement arrangements in Grain Markets, Dr Amar Singh said that the Capt Amarinder Singh led Punjab government is committed to procure every single food grain from the farmers in a hassle free manner.

While taking an aim at the Union government and Prime Minister Narendra Modi, Dr Amar Singh said that the Prime Minister is behaving like a dictator, which is very harmful for our democratic country. He alleged that the Union government is meting out step motherly treatment towards the Punjabi farmers. He said that Capt Amarinder Singh has requested the Union Railway Minister to allow goods trains, especially those carrying coal for the thermal plants in Punjab, else our state would go into darkness and the sowing of wheat would be delayed.

He further said that in wake of COVID pandemic, it was a challenging task to gear up for procurement of paddy but the procurement has been going smoothly by taking proper precautions with all mandis have handwash stations, space to avoid chaos, proper sanitisation. He said that this time the mandis have also been increased from 1872 to 4260 so that farmers can sell their crop in a hassle-free manner.

During today's interaction with the farmers and Arhtiyas, all have expressed satisfaction on the procurement process, revealed the MP. He appealed to the farmers to bring produce with in specifications of moisture content laid by Government of India. 
Reiterating the commitment of Punjab Chief Minister Captain Amarinder Singh of procuring every single grain of paddy, he said that procurement operations would continue till November 30 so as to enable farmers to bring their produce in Mandis in time.

Prominent among those present on the occasion included Nagar Council President Capt Sukhjit Singh Hara, Market Committee Chairman Daljit Singh Atwal, Zila Parishad Member Ramneet Singh Gill, Councillor Pal Singh Grewal, Senior Congress leader Karanjit Singh Soni Galib, besides several others.