Farmers could bring wheat in mandis till May 31: DC
7.80 lakh metric ton of wheat procured so far in 226 purchase centers in district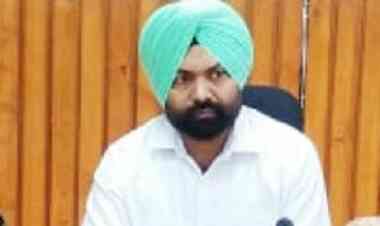 Deputy Commissioner Ferozepur Mr. Kulwant Singh.
Ferozepur: The Deputy Commissioner Ferozepur Mr. Kulwant Singh today called upon the farmers to bring their golden harvest in form of wheat grains for selling it in the mandis by May 31, 2020.
 
The Deputy Commissioner said that in consonance with the firm commitment of the Punjab government led by Chief Minister Captain Amarinder Singh to procure every single grain of the farmers, the district administration had made elaborate arrangements to facilitate the farmers during the procurement of grains. He said that the administration had set up 226 purchase centers in the district to procure the grains. He said that so far the entire procurement operation had been undertaken in a smooth and hassle free manner by following the social distancing norms adding he said that not even a single case of Corona Virus was reported in the Mandis.
 
The Deputy Commissioner further said that so far 7.80 lakh metric ton of wheat as been purchased out of which 7.63 lakh metric ton wheat has been lifted from the grain markets and a payment of Rs 1430.01 Crore has been made to the farmers. He said that the percentage of payment made to the farmers was 96 percent whereas the percentage of lifting remains around 98 percent. He said that the entire process has been smooth, transparent and hassle free to ensure that the farmers do not face any sort of problem. The deputy commissioner said that the Rabi Marketing Season was heading towards smooth closing as the season would close on May 31.
 
The Deputy Commissioner said that the farmers could bring their harvest in the Mandis by May 31. He said that the district administration was leaving no stone unturned for completing this mammoth exercise within the stipulated time period. Mr. Kulwant Singh said that every effort has been made to facilitate the farmers for procurement drive held during the Covid 19 pandemic.
 
Divulging more, District Food and Civil Supplies Controller Mr. Pinder Singh said that in the wake of Corona Virus pandemic, special arrangements were made at the purchase centers this year. He said that to ensure the procurement in staggered manners the purchase centers were increased to 226 this season with ensured purchasing, lifting and payment with 48 hours to avoid any kind of crowd building at the Mandis.