Farmers condemn Modi government surrender to corporates, demand repeal of all farm laws
Say, these laws are not for the betterment of the farmers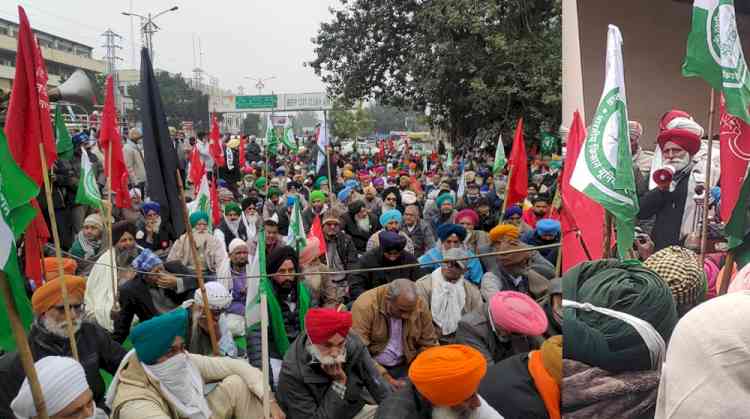 Ludhiana: The struggle against the three anti-farmer laws passed by the Modi government in the Parliament without any debate are a serious threat to farmers interests particularly the small, marginal and middle farmers as well as the consumers. Whereas the farmers will suffer severe economic loss and right to their land, the consumers will end up paying more for the agriculture products once they are controlled by the corporates as per the laws. At the call of All India Kisan Talamel Sangharsh Committee, dharnas were organized at the district headquarters today. In Ludhiana, the dharna was staged outside the Punjabi Bhawan near Bharat Nagar Chowk in which a large number of farmers and laborers participated. First of all, tributes were paid to the farmers and laborers who were martyred in this struggle. 
The speakers said that during the talks, it was acknowledged by the government spokes persons that there were flaws in the laws and these were passed in a hurry, the leaders alleged. Modi is adamant not to withdraw the laws only due to corporate pressure. This is the first time that such a big movement is going on in a peaceful and disciplined manner, which has created panic in the government. This movement is getting overwhelming support not only from different states of India but also from different countries globally.
The speakers said that Modi government should give up its arrogance and withdraw the laws in the interest of the country.
The trade unions of Ludhiana also gave their full support to this peasant struggle which has become peoples movement and demanded implementation of the report of the Swaminathan Commission. 
The speakers further said that the manner in which the ordinances were first issued and then passed in Parliament is totally unconstitutional and infringement on the rights of the states. The Modi government is constantly arbitrarily slandering the constitutional institutions which is a very dangerous practice and a threat to the country.  This is fatal to the constitutional framework. Among others who addressed the dharna were comrades Chamkaur Singh, Raghbir Singh Benipal, Surinder Singh Jalaldiwal, Hardeep Singh Ghalib, Kanwaljit Khanna, Prof Jaipal Singh, DP Maur, M.S. Bhatia, Dr Arun Mitra, Ramesh Ratan, Naval Chhibber Advocate.