Family values in context of Ramayana discussed in PU
A lot of participants thanked Shri Pachauri ji for the wonderful and informative lecture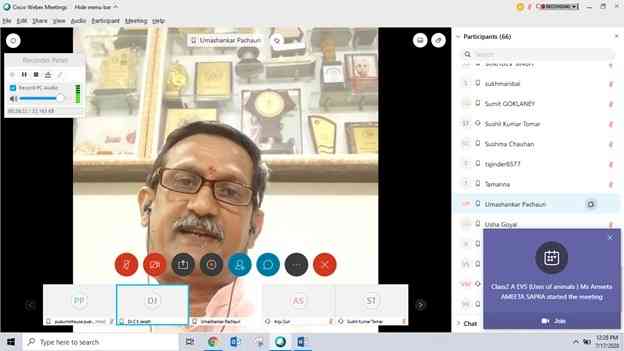 Chandigarh: Panjab University Alumni Association in collaboration with the Department of History and Bhartiya Shikshan Mandal organized a Web talk by Shri Umashankar Pachauri ji on 'Family Values in the Context of The Ramayana'. The Vice Chancellor Prof. Raj Kumar welcomed the guests and participants and introduced the theme of the web talk.
Shri Pachauri ji explained that The Ramayana has unfortunately been rejected as a myth and as a fable in colonial education which has brought about a crisis in the family values in India.
Ramayana is not about individuality or rights. The idea of duty, social service and family values predominate in the text. The duties of father, mother, parents and in-laws have been touched in Ramayana. He highlighted that it is The Ramayana that has protected Indian society even during pandemics like Covid 19 because Indian society feels more content in serving others. He requested the participants not to look at the government only but to adopt the ideals of Ramayana in one's life in order to achieve real Ram Rajya and a blissful family.
There was an interactive question answer session moderated by Dr. Priyatosh Sharma where Shri Pachauri ji answered the participants various questions.
A lot of participants thanked Shri Pachauri ji for the wonderful and informative lecture.
GD/PI for MBA by UBS,PU
Chandigarh: The   University Business School, Panjab University, Chandigarh is conducting Group Discussion and Personal Interview (GD/PI) for admission to various MBA programme(s) for the academic session 2020-2021 w.e.f. 21.07.2020 to 30.07.2020 through online mode. Provisional Shortlisted candidates have been duly informed on their registered email address.
In case any provisionally shortlisted candidate does not receive intimation on his/her registered email address regarding details/ information of GD/PI schedule, latest by 18/07/2020.He/She should contact the A.R. (UBS) on email: [email protected]