Failure of Punjab Government in Covid crisis management, BJP leaders meets Guv
Shortage of medicines, beds, Oxygen Cylinders and ventilators mars Punjab health system, Avinash Rai Khanna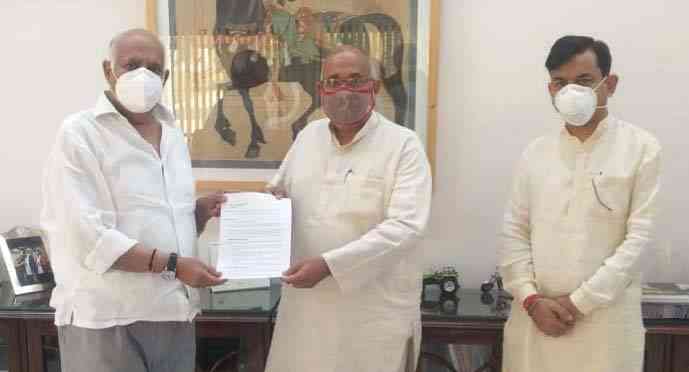 Chandigarh: Concerned over the failure of Punjab government in tackling covid crisis in state, the state's senior Bharatiya Janata party leaders met Governor Punjab VP Singh Badnore today.
Avinash Rai Khanna, National Vice Chairman, Indian Red Cross and Former MP  and Vineet Joshi,Former State Secretary, BJP, Punjab and Former Media Advisor, Govt of Punjab met the Governor.
"Based on daily interaction  with hundreds of people we have found that Punjab Govt. has failed to provide the basic medical facilities meant for covid patients. Shortage of medicines, beds, Oxygen Cylinders and Ventilators mars the health system," said Khanna.
Suggesting ways to improve the situation, BJP leaders stated that both government and private hospitals are facing acute shortage of doctors, nurses and para medical staff.  They suggested that Punjab Government should rope in all the doctors practicing from their clinics for Coroana /COVID duties at hospitals treating Corona / COVID patients.
In districts where there are no dedicated Govt Corona Hospital, the Govt doctors of these districts should be placed at the disposal of hospitals treating Corona / COVID patients.
Similarly the services of those Nurses who are registered with Nursing Council Punjab, be put on job at hospitals treating Corona / COVID patients. They also suggested that Ayurveda Doctors practicing privately, registered with Govt of Punjab, should be deputed at hospitals treating Corona / COVID patients.
To ensure that hospitals treating Corona patients should not face medicine and oxygen crisis, they called for check on Black Marketing and illegal storage.
Keeping in view the time bound treatment emergency of the corona patients, the lifesaving medicines should be made available to Corona treating hospitals in their premises, as per the number of patients admitted.
Remdesvir, Toclizumab, Injection LMW, etc like lifesaving medicines required to treat Corona patients, should be made available to all such hospitals in their premises in good number in each district and city.
Nasal cannula, Normal Oxygen face mask, NRBM (Non-rebreathing mask), Vented mask (Used with Bipap machines)  - size Medium and Large, Non vented mask (Used with Ventilators) - size Medium and Large,  HEPA filter (if available),  Ventilator Circuit tubing, etc. should be ensured in each CORONA treating hospital of Punjab.  
They also called for strict check on fake news on Social Media by Punjab Government. They demanded security at health facilities as well as to Doctors, Nursing Staff and Para medical Staff.
Talking on vaccination they said that instead of entering into blame game for vaccination, Punjab government should work to ensure sufficient supply of vaccines.