Expert Session on 'How to Plan for Start-Up and Legal & Ethical Steps' held
Expert Session on 'How to Plan for Start-Up and Legal & Ethical Steps' held  at PCM S.D.College  for Women, Jalandhar.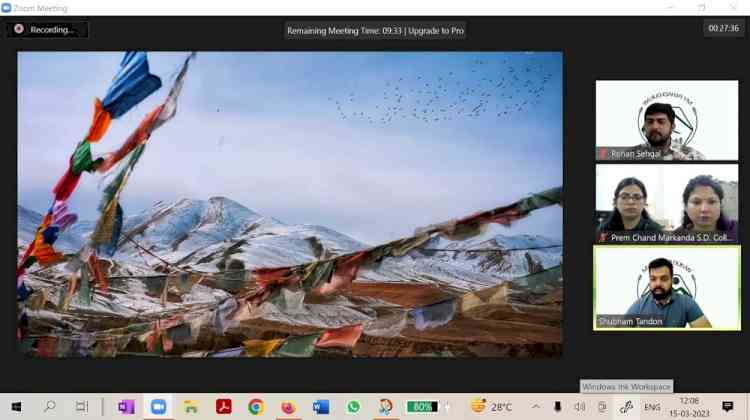 Jalandhar, March 20, 2023: In order to encourage, inspire and nurture young students towards innovation and entrepreneurship, the Institution's Innovative Council of PCM  S.D. College  for Women,  Jalandhar organizes Expert  Session on 'How to Plan for Start-Up and Legal & Ethical Steps'. Around Sixty seven students and members of the faculty participated enthusiastically.  
In this session, the Co Founders of My Pahadi Dukan four friends - Mohd Anas Zubir, Rohan Sehgal, Himanshu Dua and Shubham Tandon told their journey how they started up with just six thousand and then they never looked back. Now they have reached the heights of success with  their strong determination and patience. Further, they explained  the basics of startups, including its initiation, raising funds, legal and ethical aspects of startups. During the session, they gave a very informative insight to all attendees regarding the need to develop a right approach for setting up any startups. They emphasized upon the need to develop an entrepreneurial approach, necessary for the growth and success of any business and provided the platform to the students to ask questions which made the session highly interactive. They stressed upon the need to develop the appropriate research skills which should be inculcated in any individual to become good entrepreneurs. They guided that we need to have faith in ourselves and in our goals as the clear goals would help us to achieve our dreams. The session served as a motivation and encouragement for young minds who are aiming to become successful entrepreneurs. 
The session was of great benefit for all the young innovators who are planning for their startup and business. The session boosted their motivation to the next level. 
President Naresh  Budhia, Senior Vice - President Vinod Dada, the members of the Managing Committee and the Principal Prof.(Dr.) Pooja Prashar appreciated  the efforts of Institution's Innovative Council to successfully organize the event. It proved a beneficial session for the students.