Exim Bank to organize 'Exim Bazaar' Exhibition
Sixth edition of 'Exim Bazaar' to be held at Pune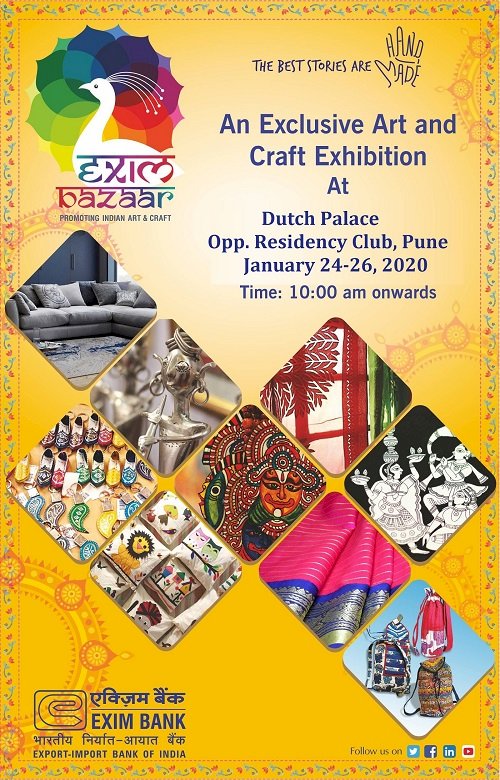 Pune: Exim Bank is organising the sixth edition of 'Exim Bazaar' from January 24-26 at Dutch Palace, Opposite Residency Club, Pune. The event will be inaugurated by Mr Utpal Gokhale, General Manager, EXIM Bank on January 24 at 10 am. The exhibition will be open to all from 10am to 7 pm on all the three days and the entry is free for visitors.
Export-Import Bank of India, in addition to financing has been actively supporting the widespread arts and crafts enterprises including grassroots enterprises in remote pockets of our diverse country, under the umbrella program termed 'GRIDMAS' (Grassroots Initiatives for Development & Marketing Advisory Services). Under this activity, the Bank assist and empower artisans, master craftsmen, weavers, clusters, Self-Help Groups, NGOs, grassroots and micro enterprises through capacity building and enable their participation at trade fairs and exhibitions both in India and overseas.  The Bank, through GRID has been actively supporting artisans in their capacity-building programs (training in modern designs and production techniques), setting up common facility centers for promoting operational efficiency, delayering of the sales channel by harnessing e-commerce technology, offering marketing support, etc., that are aimed at achieving higher value addition in their products and widening the market reach, including access to international markets, thereby enabling an increase in income and sustainable livelihood for the grassroots artisans, while also preserving the rich heritage of Indian traditional handicrafts.
 
The Bank's assistance has enabled financial empowerment, employment generation and promotion of entrepreneurship among individual artisans. Participating at renowned exhibitions, craftsmela and trade fairs has enabled artisans to reach out to new customers, generate spot sales, build their brand and secure corporate as well as export orders. The GRID/MAS initiatives of the Bank have together generated a significant positive impact on the livelihood of around 40,000 artisans across the country.
 
In order to further strengthen our efforts in direction of fulfilling its objective to promote grassroots enterprises, as also to revive and preserve the traditional arts and crafts in India, Exim Bank launched its flagship exhibition "Exim Bazaar"; an exclusive Exim Bank curated exhibition showcasing traditional & contemporary arts, crafts and textiles from across India. Exim Bank, have hosted successfully five editions of Exim Bazaar in Mumbai, Ahmedabad and Kolkata. The sixth edition of the Bazaar will be held  at the Dutch Palace, Opposite Residency Club, Pune, during 24-26 January 2020. The main objective of an exclusive Exim Bank curated exhibition is to boost the business prospects for many individual artisans as well as micro & grassroots enterprises. Additionally, the Bank can leverage on its corporate connections to provide a wider customer base for these participants. This exhibition is also expected to provide wider visibility and brand promotion for the Bank and also encourage the artisans to market Bank's efforts within their communities. Exim Bazaar envisage to bring together thousands of direct customers and generate substantial future sales. Furthermore, the event will also help the artisans to build a better understanding of the consumer preferences & behavior, develop new contacts, expand their ability to reach out to new buyers, improve industry knowledge and discover latest trends, all at a single platform.
 
This three-day exhibition will showcase traditional and conventional art and craft products from all over India. Many of the artisans and weavers, consistently participating in the exhibitions are national and state level award winners.
 
The ambit of products showcased in the three-day exhibition includes a wide range of high quality handcrafted and authentic traditional artefacts, such as Leather Puppetry, Madhubani, Gond, Kangra Miniature, Pattachitra, Phad, Pichwai Painting and Miniature Paintings, brass crafts from Bastar, Handmade cutlery, Coconut craft, Copper bells , Kutchi Pottery, Dhokra, Banana fibre, Chennapatna, Bidri metalware, Murals, Warli, Kauna, Silver Filigree, Crystal Jewellery, Dhonk craft, Kawad, Lacquerware, Sanjhi paper cutting painting, Terracota, Wooden hanging, Sabaii Grass Products, Honey and Amla, Jaipur Jewellery and handloom like Tussar silk, Ajarakh, kala cotton &  wool, Applique , Bandhani,Patola, Rabari, Kasuti, Chanderi, Himroo, Paithani, ikkat saree, Phulkari,  kroitia, Lehariya, Shibori, Benarasi, Chikankari, Jamdani, Carpets, Patchwork quilts and Kantha.