'Every sector' is talking about 'revival', but 'tourism' industry is talking about 'survival': Kamal Vardhan Rao, CMD of ITDC  
'Today trust is the new currency': Suman Bhalla, United Nations World Tourism Organisation (UNWTO)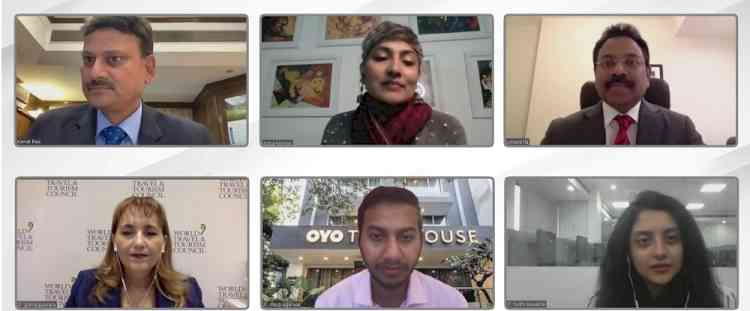 Kamal Rao, Shoba Mohan, Sumanbilla, Gloria Guevara, Ritesh Agarwal, Nidhi Bawashe Conversation on The road to recovery of the Travel & Tourism Public & Private Sector post Covid- 19.


Hyderabad: The tourism industry is the worst affected. It lost 142.6 million jobs already and expected to reach 197 million by the end of the year, said Kamal Vardhan Rao, CMD of ITDC and the Moderator, initiating the panel discussion 'The road to recovery of the Travel & Tourism Public & Private Sector post-Covid- 19'.
 
The sector has lost the US $ 3.8 trillion and which is going to go up to 5.5 trillion, he added
 
Speaking further he said, Tourism contributes 10.8% to their GDP, India 6.8%, Maldives 56% and Mauritius 18.8%.
 
He listed out how various countries have come to the rescue of the tourism sector by way incentives such as Australia giving 100% grant, Austria, Japan and UK giving unsecured loans; Hungary, New Zealand debt forgiveness, UK reducing VAT, India INR 340 bn support to SME sector.
 
'Every sector' is talking about 'revival', but 'tourism' industry is talking about 'survival, he said.
 
Suman Billa of United Nations World Tourism Organization (UNWTO) said the sector is not going to be the same in future. We must encourage domestic travel to boost tourism, to begin with. To encourage this, Japan is funding 50% of domestic travel. There has to be coordinated effort to ensure predictability he said. He cited an example that in future, passengers may be allowed to travel only on production of Vaccinated Certificates by some nations, he said
 
Speaking further Suman Bhalla said 'today trust is the new currency'. We need to regain the trust of the travellers that it is safe to travel.
 
Ritesh Agarwal of the OYO said Data Science and AI will gain a lot of importance as people are going to book rooms through the digital medium. Loyalty, personalization is going to be very key factors.
 
More people in Denmark and Belgium proved to the rest of the world by travelling increasingly within their country. Which indicates that more and more people start travelling domestic destinations? He hoped that travel will come back. Human beings are social animals, we would not like to spend full time indoors.
 
People are showing more interest in the holiday's homes. The reason for that is because of uncertain times, also because these offer private spaces while maintaining physical distance.
 
Domestic holidays will continue for a longer time. Domestic travellers may choose places close to nature, he said.  And added that small is the new big. Small hotels, vacation homes will be preferred more in future he said.
 
Shobha Mohan suggested various methods to improve the tourism sector.