Er. DPS Grewal Director Distribution, dedicates expansion of Electricity Call Centre at Janta Nagar, Ludhiana 
Says PSPCL undertook several customer-centric initiatives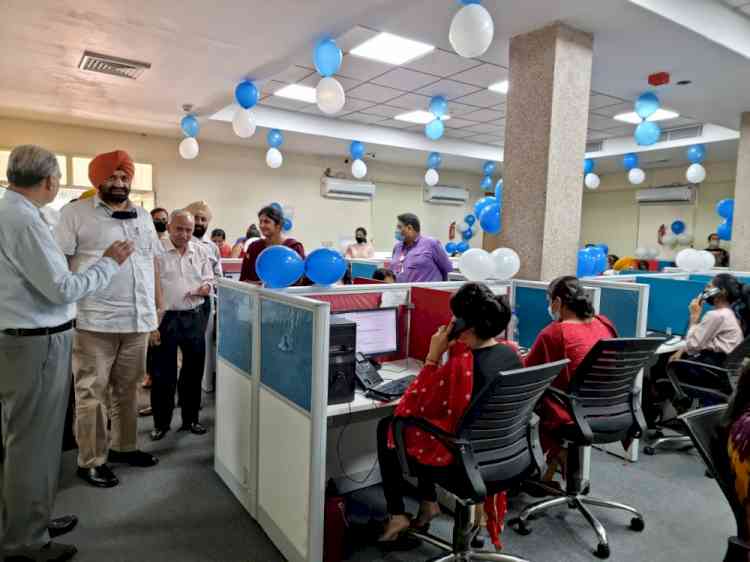 Ludhiana: Today Er. DPS Grewal Director Distribution, dedicated the expansion of Electricity Call Centre at Janta Nagar, Ludhiana to the consumers of Punjab and informed that PSPCL undertook several customer-centric initiatives such as expanding customer care facilities and various System strengthening works of 11 kV & 66 kV Transmission systems. 
As a part of PSPCL's continuous endeavour to improve its services, the Customer Services Call Centre at Janta Nagar, Ludhiana has been expanded from 40 to 60 seats with the total cost of Rs. 31.01 Lacs, besides the 60 seats capacity call centre at Chaura Bazar, Ludhiana started last year, thus making the total capacity of 1912 call centre as 120 seats. Feedback was being received from Consumers that when they try to call on '1912', the number remains busy. Now, this issue is likely to be resolved with the increased number of complaint registration incoming lines.
Er. Grewal further informed that several critical transmission works have been commissioned in the last one month. The work of 7.5 km long second circuit of 66 kV line from 220 kV Substation Malerkotla to 66 kV Substation Malerkotla was stalled for several years due to public disputes. New power transformer could not be commissioned at substation due to loading limitations of above single circuit line. Through active intervention of the PSPCL and Cabinet Minister Smt. Razia Sultana, the work has been successfully completed at a total cost of Rs. 3.3 Crores, giving significant relief to the consumers of Malerkotla. Further, this line has been shifted from Rail poles to towers, thus raising the height of the line for public convenience minimising the chances of accident besides enhancing the current carrying capacity of the line. Similarly, work of conductor augmentation & shifting from rail pole to towers of 9 km long 66 kV line from 220 kV Substation Handiaya to 66 kV Substation Barnala was stalled for several years due to public disputes. This works has also been completed at a cost of around Rs. 2 Crores with the support of Sh. Kewal Singh Dhillon, Senior Vice President, PPCC thus giving relief to the consumers of Barnala along with enhanced safety due to raising of the line on towers.
The IT implementation and system strengthening works under Centrally sponsored IPDS (Integrated Power Development Scheme) and DDUGJY (Deen Dayal Upadhyaya Gram Jyoti Yojana) schemes have also been successfully completed. Under, IPDS-Part A IT implementation project, all 97 Towns covered under the project have gone live on automated online SAP billing platform with total project cost being around Rs. 72 Crores. System strengthening works in urban areas of 102 towns under IPDS-Part B project have been completed at a total cost of Rs.330 Crores while under DDUGJY, the system strengthening work in rural areas of 20 districts has been completed with total expenditure around Rs. 244 Crores. The above projects are eligible for 60% grant from Govt. of India, out of which 50% grant has been availed and the work is under progress for financial closure of the schemes for availing the balance 10% grant. Further, 3613 nos. of eligible Households have been electrified under Saubhagya Scheme with an expenditure of Rs. 85.37 Lacs and the scheme has been successfully closed.
Er. Grewal appreciated the Transmission, P&M and Distribution teams of PSPCL for putting in their best efforts for ensuring completion of the above projects on time. Further, recently a series of storms severely damaged the PSPCL infrastructure affecting power supply in most of areas of the state. PSPCL employees worked day & night and restored the power supply. Such commitment and dedication during crisis like this is commendable.
PSPCL appeals to the valuable consumers to get their contact numbers and email id registered online on PSPCL web site at https://contactregistration.pspcl.in/ for availing prompt billing related services and getting other information timely on their mobile. Besides 1912, consumers can also register complaints by giving a missed call on toll free number 1800-180-1512, by sending SMS "no supply" on 1912 or through the PSPCL Mobile app available for Android and iOS mobile phones, WhatsApp (96461-06835), Facebook fb.com/PSPCLPb, Twitter twitter.com/PSPCLPb and customer care email [email protected] PSPCL will continue to stay committed to providing reliable and quality power supply along with a superior customer service in Punjab.
Er. Bhupinder Khosla Chief Engineer Central Zone Ludhiana, Er. Sanjeev Prabhakar SE/DS City West Ludhiana, Er. Jagdev Singh Hans SE/DS City East Ludhiana and Er. Harpreet Kaur Sr.XEN/CS&IT Ludhiana, were also present during the inauguration.