Entry to Kangra from other states restricted: DC
This has been done keeping in view of rising number of corona cases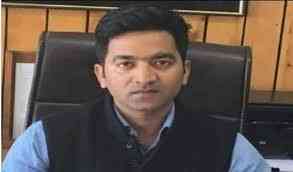 Rakesh Prajapati, Deputy Commissioner, Kangra.
Dharamshala: The District administration has changed its pass issuing procedure for the entry into Kangra district.
Informing this Rakesh Prajapati Deputy Commissioner Kangra said, "Keeping in view of the rising number of Corona cases in District Kangra, it has been decided to restrict issuance of HP Entry e-Passes. The HP Entry e-Passes will be given only in case of death, medical emergency or any other unavoidable circumstances only."
He further said, "People reaching borders of District Kangra for any other purposes or under any other circumstances will be institutionally quarantined." He said that the passes issued for businesses and to the traders along interstate borders and other permissions for essential commodity movement will remain as it is.
Earlier during the day CM Jairam Thakur had empowered the Deputy Commissioners to declare any institute within their jurisdiction as a Covid Care Center, so that Covid-19 patients can be provided the needed facility in the respective districts. He said that 100 new cases of corona have registered in the state in the last three days, which is a matter of concern. He said that two lakh people, who were blocked in different parts of the country due to lockdown,  were brought back by the state government. He said that now  people should be provided the e-passes for entry to the state only in the event of death or illness.