Enterprises penalised with three times interest penalty for not paying timely payments to MSMEs
In today's meeting 17 references were enlisted for the Conciliation proceedings meeting and nine cases were enlisted for arbitration Proceedings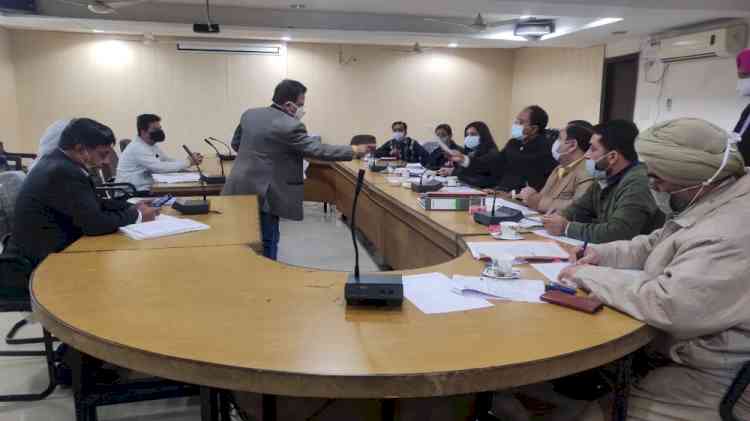 Ludhiana: The 81st meeting of the district-level Micro & Small Enterprises Development Council Ludhiana was convened under the Chairmanship of Deputy Commissioner Ludhiana Varinder Kumar Sharma here on Friday. Other members of the council including Advocate Himanshu Walia, Lead District Manager Anil Kumar, Convener-cum- General Manager District Industries Centre Ludhiana Mahesh Khanna were also present in the meeting. 
In today's meeting 17 references were enlisted for the Conciliation proceedings meeting and nine cases were enlisted for arbitration Proceedings.
During conciliation proceedings observing no component of settlement in spite of providing ample opportunity to the stakeholders, the conciliation proceedings of three references terminator and subject matter taken up for adjudication through arbitration by District council and during arbitration proceedings a ample opportunity provided to both the claimant and respondent to adduce evidences in their respective claim and defence. 
Three cases adjudicated through arbitration and references of three cases were admitted in favor of MSME claimants and against the respondents who were defaulted in timely payment in respect of the goods received from MSME. 
Two enterprises M/s Mehak Engineers, Sua Road, Dhandari Kalan, Ludhiana & Indogem Enamels Pvt Ltd E-123, Phase-4, Focal Point, Ludhiana submitted application before district council for withdrawal of their references petitions against their respective respondents by stating that they have received principle amount and are satisfied and shall not appeal against the respondents , which accepted by the District council and references dismissed as withdrawn, whereas claimants including M/s Steel Magic Plot No 883 Indl Area A Ludhiana , M/s General Industries E-672, Phase-8, Focal Point, Ludhiana and M/s Indogem Enamels Pvt Ltd who adduced evidences against their respective respondents and by appreciating the evidences and detail analysis the MSME Delayed payment council adjudicated and issued the award in favour of these claimant not only for principle amount as claimed but also penalized the respective respondents to pay compound interest with monthly rests to the supplier on respective amounts at three times of the bank rate notified by the Reserve Bank as per provision of section 16 of MSME dev Act 2006. 
The Chairman cum Deputy Commissioner Ludhiana Varinder Kumar Sharma warned that the delay in payments for supplies received from the Micro Small and Medium Enterprises would invite heavy penalty against defaulting buyers.