Enterprise IT World honored 500 global CMOs and marketing leaders
The Jury comprised industry veterans, academia, and thought leaders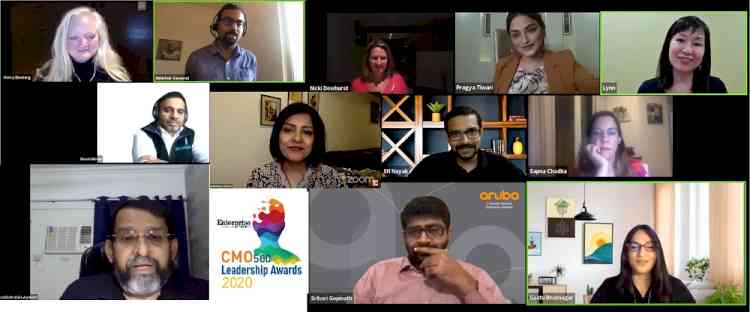 New Delhi: In a recent development, Enterprise IT World, the premium IT Magazine for the CXOs, honored 500 Global CMOs and Marketing Leaders at Global CMO Summit and Awards 2020. Organized virtually, the Global CMO Summit and Awards 2020 witnessed the convergence of the best marketing minds including CMOs and Senior Marketing Leaders of the global IT & ITES industry alongside the professors of marketing from premium B-Schools and authors. 
 
World's most prestigious award for Marketers, the Global CMO Leadership Award recognized the contribution of CMOs and Marketing Leaders who played a key role in aligning marketing strategies with business goals, and succeeded in contributing to the growth of the organization through sustainable competitive advantage.
 
These 500 Marketing Leaders inspire others with their vision, leadership, passion, commitment, and excellence in achievement. This is the first and only Global Award of this kind, where CMOs and Marketing leaders from 25 countries were recognized.
 
The Jury comprised Industry Veterans, Academia, and Thought Leaders. A rigorous and independent process combined with detailed analysis was the base for the awards. It also included the contenders' contribution to growth, the financial performance of the organization, product, and service innovation among others. The research team evaluated around 2,500 Global CMOs through primary and secondary research, post which the jury process was initiated to arrive at the final list of 500 winners.
 
The Awardees comprised CMOs, Marketing Directors, VPs and Marketing Heads from companies into IT, ITES, Telecom, Datacenter, Cloud and Managed Services.
Congratulating all the winners, Sanjay Mohapatra, Managing Editor of Enterprise IT World quoted "As the remote work and WFH is the new order of the world, making information available to the target customers in the right manner is a great challenge for brands. It is the experience and skill of the marketers, which makes their brands stand out in this chaotic situation. So, the role of the CMOs and Marketing Leaders are very critical. We, therefore, recognize and award these CMOs and Marketing Leaders for their success in steering their organization towards growth in this Pandemic."