ENIA Architects-designed Nagpur Junction Railway Station to offer world-class travel experience
Aims to boost socio-economic development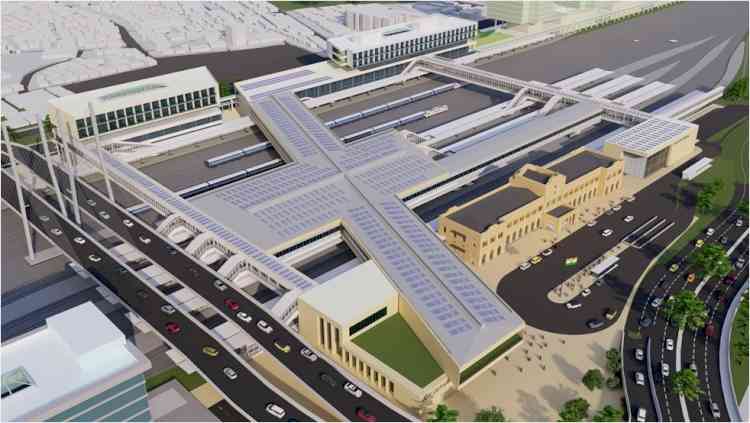 Nagpur: The personality of a place lies within the streets and public spaces. Like all aspects of contemporary life, architecture should similarly offer an appropriate response for remaining sustainable and useful. Public space design is all about promoting diversity, engagement, integration, positive behavioural change, and opportunities. The recent announcement to redevelop Nagpur Junction Railway Station, for instance, is grabbing eyeballs for all the right reasons. According to a recent tweet by the Indian Railways, the station, to be built with the Prime Minister's vision of New India, will be upgraded on EPC (engineering, procurement, and construction) mode. Designed by ENIA Architects, the primary objective of station upgradation is to provide best-in-class amenities to passengers and enhance their travel experience.
ENIA is one brand that has been at the forefront of new-age construction designs in India. Their Augmented Metro concept, which focuses on four main pillars of e-mobility, care units for the underprivileged, platforms for cultural events, and creation of art zones, have transformed the built landscape tremendously. Hinged on research and innovation, ENIA is working to ensure that their constructions are havens of comfort, convenience, and a hybrid experience.
Atri Joshi, CEO and Director of ENIA Architects believes that all research, innovation should be at the service of the common good and preservation of resources is imperative in the construction of a new urban model. Giving us an insight into the design elements of the Nagpur Junction Railway Station project, he said, "ENIALab, over the years, has been working on innovations like elevated metros in cityscapes, while experimenting on possible enhancements of metro viaducts to be better integrated in local communities. The Nagpur Junction Railway Station will be equipped with an enhanced waiting area and seating capacity, a parking facility for two-wheelers and cars, 30 lifts, and 31 escalators to provide world-class travel experience to passengers and boost socio-economic development in and around the station. For the first time, an elevated concourse is being added above the tracks by launching large span girders while the station continues to operate. It will be a one-of-its kind and the concept will definitely make a mark globally. We're happy that efforts are being acknowledged by the government."
Joshi further added that the future of construction is one that focuses on research and innovation for the good of humanity. "Such research must cover an extensive array of themes and scales, taking into consideration all aspects of the project. The entire design is planned keeping public convenience in mind. Our priority is to ensure smooth accessibility to people with disabilities, commuters with children or carrying luggage, as well as people with temporary mobility problems and the elderly," he noted.
Currently, the number of passengers at the Nagpur station is around 7,700. However, after the station's redevelopment, it will be able to accommodate over 9000 passengers during peak hour traffic. A roof plaza connecting departure halls of east and west side of the railway station, having a common waiting area for all departing passengers shall be constructed above the platforms for facilitating the movement of passengers. Multi-modal integration will be done through a sky-walk connecting the railway station, metro station, and multi-level car parking. There will also be provision of retail and commercial activities.
Sharing his thoughts on sustainability, Shival Manchanda,  COO & Director, ENIA Architects commented, "It is impossible to talk about modern construction designs and not consider the push towards sustainable architecture. The station building has Green Building Certification with solar panels on the roof and other sustainable features such as rainwater harvesting, wastewater and storm water reuse, solid waste management with onsite segregation."
Manchanda also informs that the theme is unique to Nagpur Central Station; inspired from the vision of the city which aspires to be a sustainable metropolis in the heart of India, with state-of-the-art infrastructure. "The new station while respecting the old heritage building presents a contemporary architectural style which re-enforces the image of Nagpur as a world class city. Use of modern materials like glass, steel and aluminium reduces the risk of bad finishing and allows for the minimalistic approach for architecture. The material used in station end blocks are in contrast to that used in Heritage building; so that Heritage building gets highlighted," he said.
The Rail Land Development Authority (RLDA) has invited an RFP (request for proposal) for the major up-gradation of the Nagpur Railway Station. The cost is estimated approximately at Rs 536 crores and the timeline of completion is three years from the award of contract.
Nagpur Junction, one of the top 100 booking stations, is an important junction on the Howrah–Mumbai and Delhi–Chennai trunk line of the Indian Railways. Classified as an NSG-2 category station, it is one of the oldest and busiest in Maharashtra.