Elsewhere & Hero Realty organise a two-day Think Fest 'Speaking Allowed 2023' 
Free-flowing, evocative and radical, 'Speaking Allowed' was a platform for discussions and debates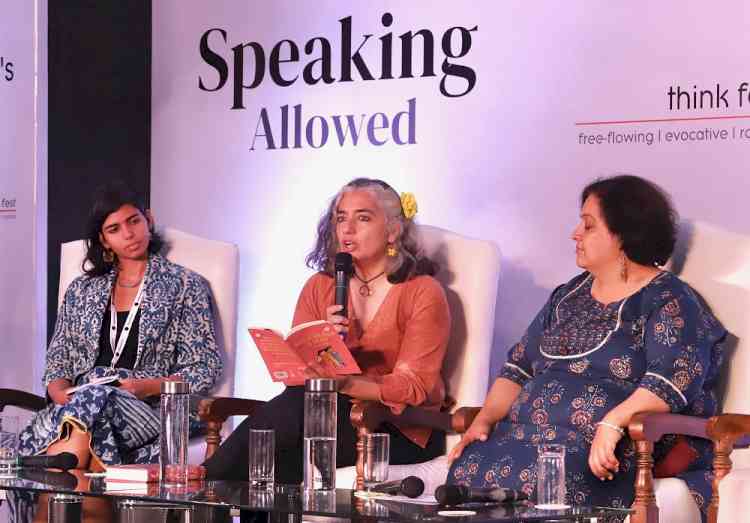 Renowned children's author Samina Mishra participating in a session.


Chandigarh, March 30, 2023: Elsewhere Foundation in collaboration with Hero Realty organised a two-day Think Fest, 'Speaking Allowed' in Chandigarh. The unique endeavour set the stage for an invigorating, and insightful exchange of thoughts and ideas by eminent authors, panelists and artists. The day began with a session 'Writing Kashmir' by author Ashish Kaul, and performance artist and writer Inder Salim, which was moderated by Manraj Grewal, Resident Editor, The Indian Express, Chandigarh. The session stressed the need to constantly bring alive different narratives from Kashmir. Grewal initiated the discussion on Kashmir, its present political and social status, on what development actually means for the common people and how vital it is to look at both sides of the same coin, the need to understand and respect diverse perspectives and have open minds and hearts. In a world full of gender bias and constant rise in crime against women, Kaul is trying to make a difference and is set out to explore the journey of reviving women role models that have made extraordinary contribution to the multifarious development of India. Didda: The Warrior Queen Of Kashmir, published by Rupa Publications is one of those forgotten women. It shot to global ranking 10 in few days of its launch and has been translated into Hindi and published by Prabhat Prakashan by the name 'Didda: Kashmir ki Yoddha rani'. Kaul has also authored bestsellers Refugee Camp and Rakht Ghulab. "The need of the hour is to look at Kashmir with new eyes and focus on the  problems of common people, be it food, power, equal rights and peace," shared Kaul. 
A  conceptual performance artist and poet practicing for over 25 years, Inder Salim was born in Kashmir and is based in Delhi. With vast exposure to diverse art forms, artists are now experimenting with genre-defying practices of performance making, and Salim is one of the forerunners of this practice. Salim staged a short performance, titled Lost Phiren and stressed upon the role of art as activism. Reflecting upon the relationship between art and its relevance to the world he lives in, Salim urged people to change with the power of art.   
The next session, 'Who is Afraid of Indian Literature', was held by speakers including Khalid Jawed (JCB Prize-winning author), Arunava Sinha (Crossword-prize winning translator), Ravi Singh (Publisher, Speaking Tiger). Nirupama Dutt (award-winning poet) moderated the session. The discussion reflected on how Indian literature in different languages is making headlines and winning awards after being translated into English. The panelists spoke about how translation brings to centrestage narratives from across the country, opening minds about the social, economic, political issues of differrent people and how reading needs to be encouraged, new trands in publishing, how for authors, readers are the biggest prize.  On being asked about, the type of writing coming forward, from young and new writers, Ravi Singh said that, "It is very exciting, I am a big fan of new writing because it is diversified content. As long as people read there is no problem."
He also stated the importance of literature festivals, but prefers a small litfest because in the smaller ones clearer voices are heard as compared to the large ones. Khalid Jawed, JCB Prize-winning author, stated on the fact that, "Urdu is only considered the language of Muslims, but that is not true as Urdu connects with people to each other". Arunava Sinha said, "When there are more translators, more readers will be there"
Moving further the third session – 'Gazing at Punjab through art' was conducted by celebrated singer Rabbi Shergill and acclaimed artists Thukral and Tagra who talked about contemporary Punjab, aligning their thoughts, ideas, and vision through their art. The session was moderated by filmmaker and scholar Daljit Ami. From the farmers' protest to the burning Amrit Pal issue, politics, the session focused on contemporary Punjab.  Rabbi Shergill, stated that art needs to wake up and point in the right direction. "When we all start discussing, raising issues, it will start amplifying the collective movement. As for music in Punjab I understand the glamour and glory that comes with Punjabi music as we hear it today - I know it and I resist it. Yes Moosewala's style of music should happen. It's a safety valve, we should know what people are thinking, reflecting - but one has to understand what art is, what is stands for. The dominance and sheer size this kind of music and singers achieve has to be checked. Where is Asa Singh Mastana, Surinder kaur, Bulleh Shah, Sultan Babu, Dheeraj Kumar, where are the voices that made Punjab cosmopolitan. Where are, tell me the female voices? I hear none. I consider Waris Shah the Shakespeare of Punjab, his invocation of the character of Heer is the cornerstone of Punjabi literature and we have collectively failed our literature and poetry. Our responsibility is to show leadership, to take charge, to understand where we stand and what is a our moral stand," Rabbi is working on more music inspired by his favorite poet, Sultan Babu.
 
The last session of the evening was Reading Young, and Busted the myth that the young are not reading enough. Children's author and filmmaker Samina Mishra and graphic novelist Ita Mehrotra looked at what the young adults are reading. Jaskiran Kapoor, writer and content creator moderated the session. The authors spoke about their work with children, the need to bridge the gaps, encouraging new forms of content, and making books more accessible to children. Change, they reflected is what books must strive for.