Efforts needed to promote Pahari language among youth: Dr. Kaushal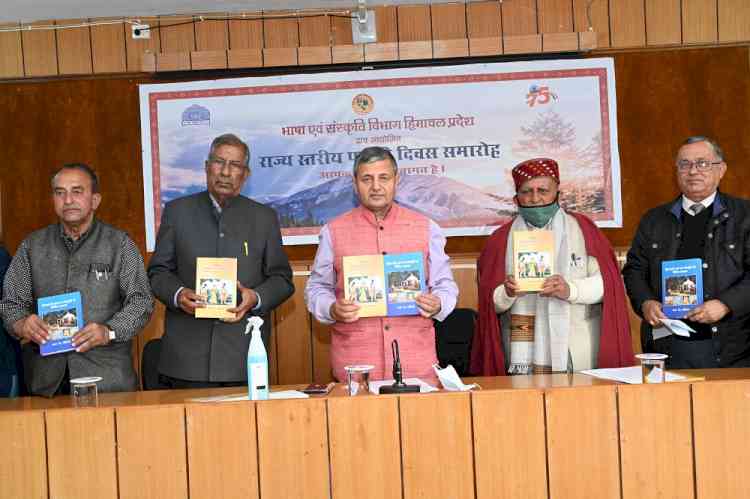 Nauni (Himachal Pradesh), November 1, 2021: The Department of Language, Art and Culture, Himachal Pradesh today organised State Level Pahari Divas at Dr. YS Parmar University of Horticulture and Forestry, Nauni. Dr. Parvinder Kaushal, Vice-Chancellor of the university was the chief guest on the occasion. Renowned writer and President Award winner Vidyanand Sairak presided over the function. Over 40 writers and scholars from different parts of the state are attending the two-day event during which deliberation on the promotion of Pahari languages will be held.
The event began by lighting the lamp. Kusum Sangiak, Assistant Director gave a brief background about Pahari Divas celebrations and welcomed the writers and scholars from all over Himachal Pradesh. Alka Kainthla, Assistant Director welcomed the chief guest in Himachali tradition and presented a book to him.
Speaking on the occasion, Dr. Parvinder Kaushal, said that the scholars from the state have been regularly coming out with literature in the local languages but it was important that now everyone comes together to promote the adoption of local languages, especially among the youth. He also shed light on the Pahari languages which are on the verge of extinction.
He laid special emphasis on the promotion of local languages and urged the gathering to teach local dialects to their children. Dr. Kaushal said that along with organisation of events like this we need more events in Pahari language at the school, college and university level. He also pitched for the use of internet media for the promotion of local languages.
Dr. Surat Thakur presented a paper on 'Himachali dialects in the current context and new education policy'. Dr. Thakur said that literature was being published in Pahari language. He said that the young generation is eager to learn a foreign language but the local languages and dialects are being ignored by them. He said that the new education policy will enable teaching in local languages. In his address, Madan Himachali said that it was high time that writers and scholars from the state came together to identify and come to a consensus on pahari language. Two books written by Amar Dev Angiras were also launched during the event.