EcoSikh establishes over 400 sacred forests in 36 months
Releases full-Punjabi tutorials on forest making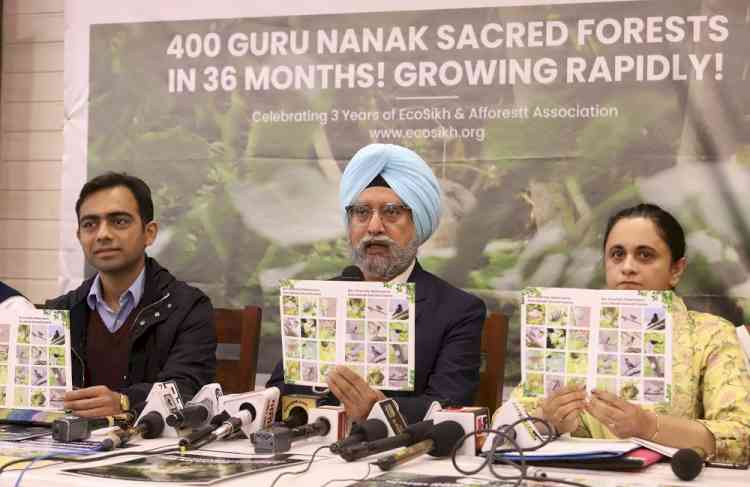 Dr. Rajwant Singh (USA), Founder & Global President EcoSikh flanked by Shubhendu Sharma, Founder Afforestt, Advisor EcoSikh (left) and Dr. Supreet Kaur, President, EcoSikh India interact with media at a press conference to unveil Mini-Forest Making Tutorials' at Chandigarh Press Club on 28th of February, 2022.


Chandigarh, February 28, 2022: 400 Guru Nanak Sacred Forests have been planted in Punjab and other parts in India by EcoSikh. Washington based environmental organization EcoSikh and its India Chapter, EcoSikh Charitable Society announced this milestone in 3 years of work in this regard. A report giving details of all the locations and kinds of trees planted in these forests was released. In addition, A-Z tutorials on forest making in Punjabi were released  at Chandigarh Press Club.
 
Dr. Rajwant Singh (USA), EcoSikh Founder and Global President stated, "The Sacred Forest project was launched to commemorate 550th Birth Anniversary of Guru Nanak and to mitigate the effects of climate change. It is so exciting to report the community based action of planting 400 surviving and thriving forests."
 
He added, "Today our forests are greening the barren land and provide habitat to several varieties of native birds and pollinators."
 
World's most renowned forest maker and Afforestt Director, Shubhendu Sharma and EcoSikh team launched an open-source forest-making video tutorial to educate masses in Punjabi, Hindi and English, all available on YouTube free of cost. These tutorials will be helpful to the entire Punjabi community in India and the global diaspora to make their own Sacred Forests by following these highly engaging lessons.
 
Supreet Kaur, President of EcoSikh India, said, "Afforestt Institute has played a huge role in educating and training the EcoSikh team to start and continue its journey in various other states of India including Punjab."
 
Since 2019, EcoSikh has successfully demonstrated the thrilling results of Miyawaki methodology in Punjab by growing hundreds of thousands of native trees into self-sustaining micro forest zones in various districts of Punjab.
 
"As a not-for-profit organisation, EcoSikh has been trying to make forest creation affordable for all. We have opened a new segment of Industrial forests under Corporate Social Responsibility (CSR), wherein the big production and corporate houses can reduce their carbon footprint hugely with affordable price and minimum land investment." Added Supreet Kaur
 
Pavneet Singh, Head of Operations, Sacred Forests said, "All of the trees planted in these forests are of native species and many of them have disappeared over the years. The Sacred Forest project has conserved 60+ native and rare plant species of Punjab and the demand is growing to create more forests all over Punjab and other states."
 
Charan Singh, Convener of Sacred Forests project made his massive announcement, "We are grateful to Dr. Rajwant Singh for his vision of planting 1 million trees in Punjab. Today we commit to him that our team will plant and maintain 10 million trees by 2030. The strategy to fight climate change should not only be focused on emissions reduction, we need to remove carbon from the atmosphere. Sacred Forests are carbon sinks and will help us stay below 1.5 degrees by reducing the temperature in those areas."
 
Today EcoSikh holds its own plant nursery at Sajjan Precision Castings, Sahnewal and the NGO has a battalion of trained and certified Miyawaki forest makers. EcoSikh has planted 11,000 trees in Angels Valley School, Rajpura and 10,000-tree at Science College Jagraon in one-acre land as its largest projects in Punjab.
 
The key industrialists of Punjab, Gurvinder Pal Singh from Sajjan Precision Castings Ludhiana, Lokesh Jain from TK Steels Ludhiana, Sandeep Mehta from Angels Valley School Rajpura, and Iqbal Singh from Innovative Financial Management Chandigarh shared their plans regarding the network of industrialists they have established in Punjab and Chandigarh to plant 1 million trees in the coming year.
 
EcoSikh was founded in 2009 in collaboration with the United Nations Development Program. Recently EcoSikh represented the Vatican Interfaith called by the Pope and at Glasgow COP26. It has been invited by the White House, United Nations and is working with the World Economic Forum.