E-waste management awareness webinar organised by Mayank Foundation
The Keynote address was delivered by Dr. Harsh Sadavati, VC - CT University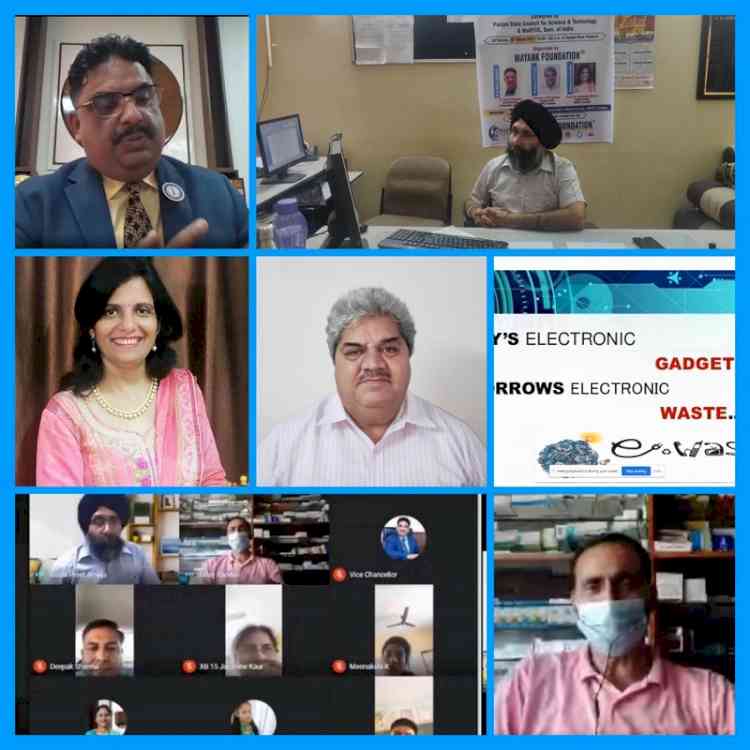 Ferozepur: A Webinar on "E-Waste Management" was organised by Mayank Foundation, Ferozepur under the patronage of Punjab State Council of Science and Technology. The Webinar was organised under Swachchhata Action Plan 2020-20 of the Ministry of Environment, Forest and Climate Change (MoEFCC), the flagship programme of Government of India.
The Keynote address was delivered by Dr. Harsh Sadavati, VC - CT University. Two Resource persons, Dr Lalit Sharma and Dr. Sangeeta Sharma both Professors in Chemistry, from Shaheed Bhagat Singh State Technical Campus, Ferozepur delivered expert talks. Dr Gazal Preet Arneja, Professor Mechanical Engg Deptt. hosted the proceedings of Webinar. The participants of this Webinar were students from SBS Campus and CT University, social workers from NGO's and teaching fraternity from Punjab Govt. Schools.
Dr. Harsh Sadavati, VC - CT University, emphasized on threats of E-Waste on human health, disposal and recycling of E-Waste. He said that health risks may result from direct contact with toxic materials that leach from e-waste such as lead, cadmium, chromium, brominated flame retardants, or polychlorinated biphenyls (PCBs). He said accumulation of chemicals in soil, water, and food pose threat to the eco-environment of mother earth. He also emphasized on serious environmental risks by dumping electronics to a landfill, compared to recycling which provides considerable benefits to our environment.
Dr. Sangeeta Sharma, in his expert talk termed E-Waste as emerging global environmental and public health issue. She said that in India most of the waste electronic gadgets are stored at households as people are unaware of discarding them. She said that although the problem of E-waste is growing exponentially, however it's also a rich source of metals such as gold, silver, and copper, which can be recovered and brought back into the production cycle. She emphasized on recycling to counter this ever increasing threat which also provides employment which is a great cause of concern in India. In the end she told the participants to take pledge of reducing E-Waste by (1) avoiding waste including Single Use Items and Plastics e.g. Remove, Reduce, Re-use, Repair, Upcycle, Donate, Recycle, Recover (2) By segregating key recyclable materials including: Metals; Plastics; Glass; Paper and Card; (3) By introducing Food Waste Recycling; (4) By Re-use, Repair and/or Recycle our Electrical waste or Electronic Equipment (WEEE waste).
Dr. Lalit Sharma, in his expert talk shared statistics related to E-Waste. He said approx. 50 million tonnes of e-waste was generated globally, out of which half was related to personal devices such as laptops, PC's, Smartphones, Tablets, LED's and TV's and the remaining items being household electronics appliances of daily usage. He said one must ask the questions before buying a new electronic gadget; (1) Do I really need this new device? (2) Is it a need, or more of a want? (3) Will it add value to your personal or professional life in any way? By asking these simple questions one can avoid buying new gadgets and in turn contribute towards reducing the problem of E-Waste.
All these three sessions were very interactive and enthused the interest of participants. Various participants came up with queries. Sukhjeevan Singh student from SBS STC asked about the intricacies in reducing the problem of E-Waste.
 Prof. A K Sethi (Retd. Principal RSD College, Ferozepur) was a patient listener to the entire proceedings of Webinar. He congratulated the Team Mayank Foundation for its effort to sensitize the masses about this grave global problem. He said E-Waste is a big global problem and there was great need for conduct of this Webinar. He gave suggestion of conducting this Webinar in regional language for great spread and understanding of this grave issue of E-Waste. Dr. Navdeep Gill, Principal Mukatsar Institute of Higher Education,  Mukatsar Sahib another participant of this Webinar appreciated the efforts of Mayank Foundation for awakening the general public on this important issue. She said more such Webinars should be conducted on a regular basis for stimulating youth and addressing the root cause of this global problem. Ms. Sharvya Chabbra, another participant shared her experience of managing E-Waste problems by awaring the general public to donate electronic gadgets to needy persons.
Dr. Gazal Preet Arneja, paid heartfelt thanks to Madam Jatinder Kaur Arora, Executive Director and Dr. K. S. Bath, Joint Director, Punjab state council of science & Technology for lending a helping hand and tireless support for conduct of this Webinar. He said with the active support of Punjab state council of science & Technology Mayank Foundation will organize other activities under the broader umbrella of Swachchhata Action Plan 2020-20 of Ministry of Environment, Forest and Climate Change (MoEFCC). In the end he thanked all the participants for patient and attentive listening and participating and raising doubts after each session.