Dr.SSBUICET welcomes Alumnus Manika Sheokand Miss India Grand 2020
Parents, sister and other family members of Miss Manika also shared Manika's childhood memories with the audience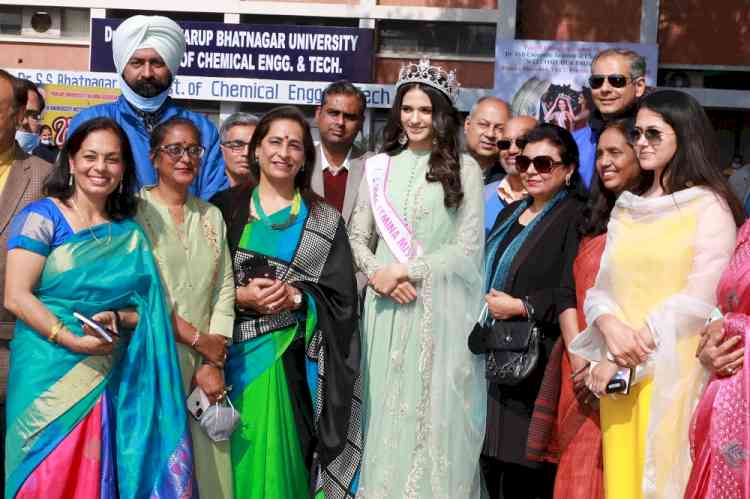 Chandigarh: Dr. S. S. Bhatnagar University Institute of Chemical Engineering & Technology (Dr.SSBUICET), Panjab University, Chandigarh welcomed Miss. Manika Sheokand, Miss India Grand 2020, alumnus of UICET, PU, of B.E. (Chemical)-MBA, 2018 batch who visited the department on Feb 17, 2021. She was welcomed and felicitated by the Prof. Amrit Pal Toor, Chairperson, Prof. Anupama Sharma, Dean Alumni Relations, Prof. V.R.Sinha, Dean of University Instructions, Prof. Rajesh Gill, Dean Research, Prof. Sanjay Kaushik, Dean College Development Council, faculty members, staff and research scholars. She was accompanied by her family members and friends. The programme was inaugurated with tree plantation by her to mark her presence in the department. 
Miss. Manika shared her experiences in the department about how the department has helped her in moulding her personality and given her opportunities and her journey of becoming Miss India Grand 2020. 
Prof. Anupama Sharma also offered her lifetime alumni membership of Panjab University. She said that it was a matter of immense pleasure and pride for the department as well as Panjab University that she would be representing India on the world stage.
Parents, sister and other family members of Miss Manika also shared Manika's childhood memories with the audience.